12 Ways to Embrace Slow Living in 2018
BeejLiving presents the ultimate month-by-month guide to live meaningfully in 2018
This year, BeejLiving presents a simple, month-wise guide to embrace slow living. We encourage you to spend one month mulling over each month's suggestion, before you move on to the next. You can mix up the routine to what suits you. It's our New Year gift to you, may 2018 be as smooth as avocado butter on your toast!
January: Happiness in a flexible routine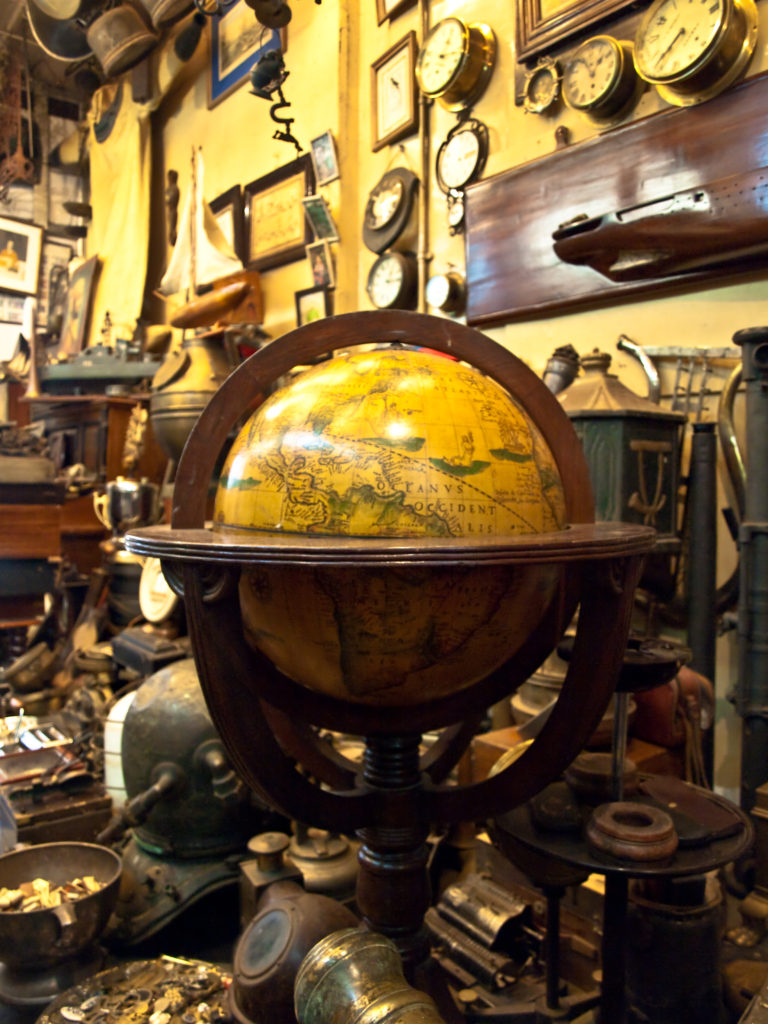 The year has started with no semblance of a routine. And it seems that I am not the only one whose daily schedule has been discombobulated by the year-end debauchery. The art of making the most of 24 hours has been articulated as far back as 1910, in Arnold Bennett's How to Live on 24 Hours a Day. The slim booklet addressed the workers who were adjusting to the fixed hour work days of the industrial revolution.
Fast forward to over 100-years hence, and surprise, we are still clock watchers. But our working hours are more fluid, and we need more tools to tackle our hyper-busy days. Bennett's neat division of a day into two distinct time slots: 16-hours of personal time and an 8-hour long work day fail the modern-day worker. There are no neat distinctions for us: work and play overlaps. You need to make hard choices. Family or sport. TV or meditation. Randi Zuckerberg immortalised it in a tweet : "The entrepreneur's dilemma: Maintaining friendships. Building a great company. Spending time w/family. Staying fit. Getting sleep. Pick 3."
Luckily, we can choose more than three. What works for me is to prioritise what all I want to fit in a day and be flexible about how I fit it in. If my daily schedule reads thus: meditate, pranayama, yoga, work, exercise, read and watch Netflix, necessarily in that order, I am open to dropping non-essentials (Netflix or books) if something pops-up. If I can't go for my hourly walk, I squeeze in half an hour, or drop the walk and instead do yoga for 15 minutes. The key is adapt, be flexible, and prioritise. If you can spend only 5 minutes on a scheduled activity, do it, rather than not. And don't beat yourself if you cannot tick off your to do list.
In our multi-tasking, hyper-connected lives, a schedule needs to be a jigsaw, where we fit time slots as the day progresses. Whatever is non-priority, shove it over to the next day. After all, in the words of Bennett, "You have to live on these twenty-four hours of daily time. Out of it you have to spin health, pleasure, money, content, respect, and the evolution of your immortal soul. Its right use, its most effective use, is a matter of the highest urgency and of the most thrilling actuality. All depends on that. Your happiness—the elusive prize that you are all clutching for, my friends!—depends on that."
February: Power of sleep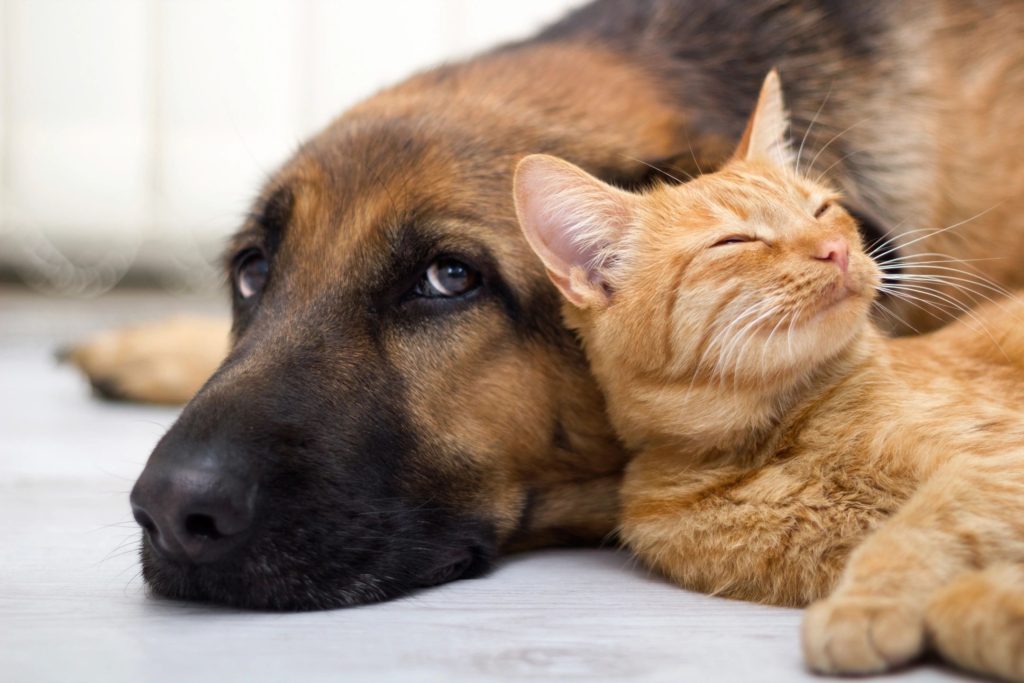 Sleep is bae
That I love sleeping is an understatement. As a child, I loathed the afternoon nap, as an adult I cling on to my afternoon snooze as Linus clutches on to his blanket. A few years ago I read a piece that said Shah Rukh Khan, Tim Cook and even our honourable Prime Minister sleep for barely 4 to 5 hours at night, but studies point out that shuteye for at least 7 to 9 hours is a must to function as a healthy adult.
Sleep has to be the most underrated healing activity. When founder of Thrive Global Arianna Huffington collapsed in 2007, she began advocating a good night's rest as a path to success. Sleep is touted as a powerful reset button that maintains the brain's functionality, clearing toxins from the brain. Yet we can't sleep at night. We toss and turn and burn inside, literally. We sleep with our cell phones on our pillows, gnawing our brains away with radiation, with nightmares of electric sheep.
My bedtime routine transformed after I changed my mattress, an investment worth its value in gold. A firm, foam mattress is the gold standard for restful sleep, so is your pillow, dohar and blankets. Cultivate a bedtime routine to get ready for the sack. An hour before bed, I drink a glass of warm green tea, a calming ritual, rather than for any health reason, and a scraping of raw, grated turmeric. (If you're not vegan or lactose intolerant, you can also have haldi-doodh) Half an hour before bedtime, I switch off the main lights and put on the reading light. You need to make sure the temperature in the bedroom is ideal. (No cold feet nor a hot head) An Ayurveda doctor recommends rubbing warm ghee on the soles of your feet for a good night of rest. Switch your cell phone off. If there is an emergency, your landline or intercom should suffice.
At any cost, jump into bed before midnight. Though I've been a nocturnal being all my life and work more efficiently at night, it comes at the cost of a productive day. I have come to realise I function much better if I operate more as a human and less than a bat.
March: Hyper-locally grown in India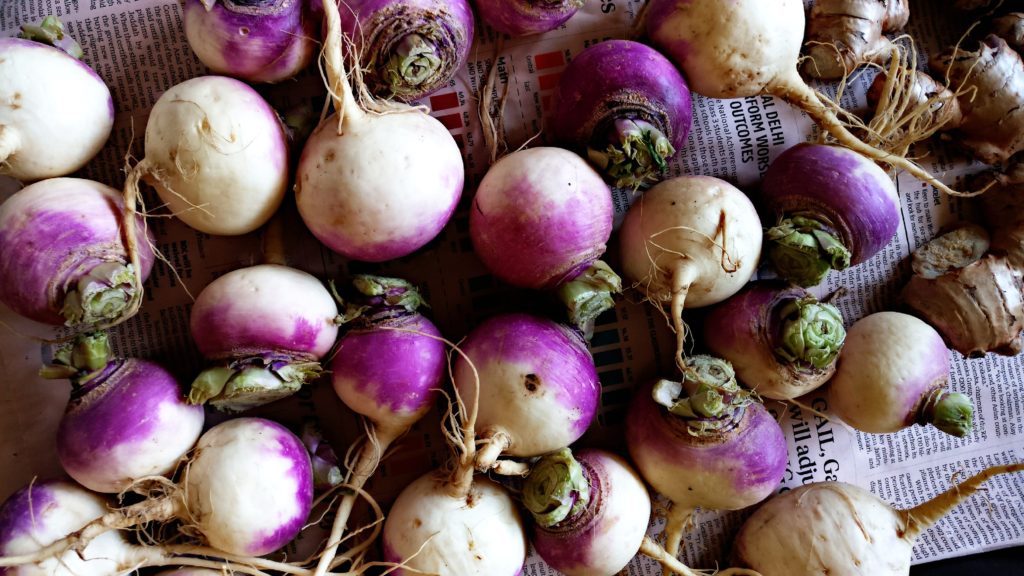 Turnips for the cauliflower-turnip pickle
I'm a Punjabi, born in Delhi who has grown up in Mumbai. My palate is multi-cultural, though I'm not sure to which state my metabolism shows allegiance to. But by now, I have a vague idea of what foods don't suit me. And more so, I know what is good for me, and I'm in denial of the rest.
Around a decade ago I had visited Canada, where Alisa Smith and James MacKinnon had just then set out to eat things that were produced within a 100 mile radius of their home-the 100-mile diet, which soon translated into a best-selling book. Back home, by default we've been eating the produce that has been grown in our backyard, more so in Delhi, than in Mumbai, which doesn't have the advantage of farmland around it. But in the last decade, things changed. Our plates have been infiltrated by Chinese apples, Thai rambutans and Chilean Sea Bass. Home grown was passé until recently.
The 'eat local' movement is all the rage now and I'm all for it. Celebrity dietician Rujuta Diwekar has listed 10 Indian super foods which include ghee, kokum, banana, coconut and rice, and horror of horrors, sugar (sugar cane). Eating local has its own advantages: it suits your body, it's easy to procure and it's cheaper. I'm not a fan of John Dory or the ilk that has sweated over countless airline miles. Nor the esoteric wellness imports such as kombucha, mainly after my experience with brewing my own kefir, which spoilt in the humidity into a ghastly smelling cheese. Instead, last week we made kanji, our own desi ferment which thrives in our climate. But if quinoa floats your boat, and amaranth doesn't, go ahead and eat it. Sensible eating, not denial and quivering guilt, is the key to health.
I'm spending time understanding my body and Ayurvedic dosha. (Beej Insider: For more information on how to eat according to the principles of Ayurveda, read this.)  I've been reading, watching documentaries, speaking to people and understanding the impact of food and how digestion works (the guinea pig is yours truly). I recommend Dr Vasant Lad's tomes on Ayurveda and Ayurvedic cooking and Anthony William's books on plant and herb based healing and Gut: The Inside Story of Our Body's Most Underrated Organ by Giulia Enders.
Even different styles of cooking suit different family members (I'm a soup kind of chick; my sister is a smoothie chica). I steer clear of new-fangled, old-fangled and any sort of diets, and keep a very flexible fast once a week where I gorge on coconut water, sago, sweet potato and fruits. Sugar is my frenemy. It's my friend on holidays and in Delhi, my enemy when I'm at home in Mumbai, though sugar in its insidious forms is everyone's enemy (aerated drinks, alcohol, pastries and other highly processed food stuff-consume in moderation). If we look back to what our grandparents ate-a lot of fruits, vegetables and very simply cooked home food with spices and herbs, we'd live like them, relatively healthy, well into our 90s. My rule of thumb is closer it is in preparation as it was to the stalk (a fruit or a vegetable), the better it is to consume. With every degree of movement away from its natural state or delicately cooked stage, it becomes less preferable. (Such as processed foods in plastic packets, fast food, etc).
April: Magic of a ritual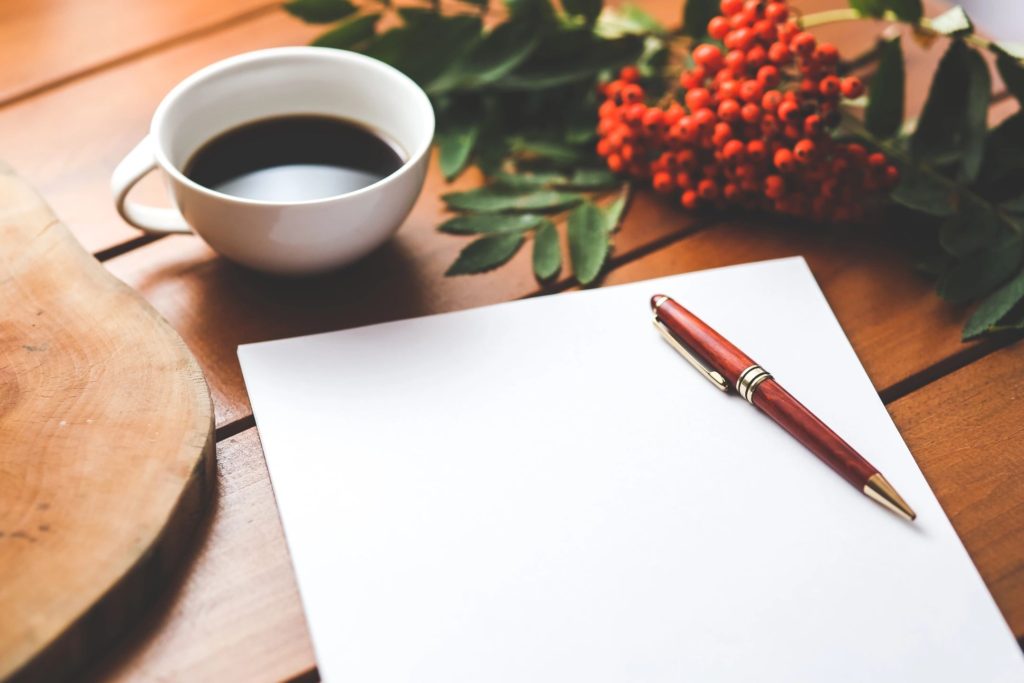 Writing with inky flair
Ritual: A solemn ceremony consisting of a series of actions performed according to a prescribed order.
The nature of human beings is to look outside for big flourishes of joy flashing on neon boards. But I find happiness in my home, through smaller, manageable rituals. We all need those moments in our daily lives to make us happy. This doesn't mean only prayer or the perfect headstand, but small carefully cultivated acts, which if habitually done, bring you happiness.
I have several. Around six months ago I stopped writing with a ball point pen in favour of ink pens. (anything right from dodgy Chinese imports to Parker pens). Those which require an ink pot, and not refillable cartridges. It adds heft to my writing, or so I believe, and the scrawny flourishes make me happy. I brew my green tea in a special pot and drink it from a matching glass. I have a small shrine for my books.
These small things add meaning to what I value and how make what I do special. Whether it's the special pan you prepare your eggs in, the ridiculous velvet robe that you wear at night or your work desk in your den, you need to make the ordinary extraordinary, which reflects on whom you are as a person.
May: An intelligent minimalism in fashion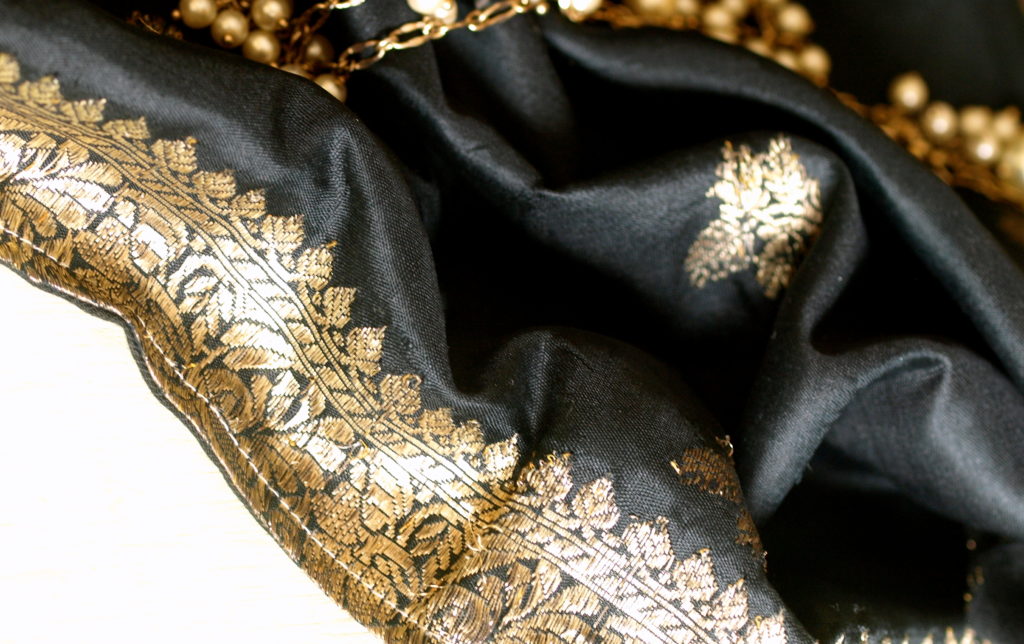 A Benarasi stole in the family since four decades
As fascinated as I am with Marie Kondo's Konmari method or The Minimalists' podcasts, let's face it, we're Indian. We cannot live in a white and a black shirt and a pair of blue jeans and sweats for the rest of the year, let alone the rest of the week.
I've been one whose cupboards are constantly exploding. And yet, invariably, I've had nothing to wear.
What works for me is dividing my purchases into: heirloom, perennial and seasonal. Invariably, your scale needs to tip towards the heirlooms, middling on the perennial and reduce towards the seasonal.
The heirlooms comprise couture and fine fashion: designer togs, the saris and the traditional wear, bought according to need, not greed. After all, how many saris and hand bags can you own? The idea is to invest in artisans and a once-in-a-few-generations quality fashion which can be used beyond your lifetime and bestowed to your family, cherished over the years.
The perennials are your jeans, trousers, sweaters, formal dresses and works clothes that you need to replace ever so often.
The seasonal are what you buy according to season and have to be replaced often-your pyjamas, inner wear, your gym wear, daily Ts, and perhaps something in trend. Because the spends are relatively lesser in this category, we tend to horde. Instead, reduce the frequency with which you buy.
Every time I buy something, I remove two items of clothing from my cupboard. Also, see if Kondo's spark of joy applies to what you own. If it doesn't, thank it and donate it. There are a lot of NGOs such as GOONJ and institutions such as the Indian Cancer Society which accept donated clothes in good condition. (Please donate what you would wear, but choose not to. The rest needs to go to the landfill) And steer clear of online buying. It's as addictive as a drug and most of the times, the clothes never fit nor do they look as good as they do on the skinny model. Soon enough, you'll find you have a classic, timeless closet with very little buyer's remorse. Invest a little time in visiting stores. I love shopping alone, trying out clothes, feeling the fabric against my skin, seeing how it looks on me.
Upcycle and recycle as much as possible. According to Forbes, fashion is the second most polluting industry in the world. Those faded T-shirts can become nightwear and Indian homes always need good, soft dusters.
June: The immunity boost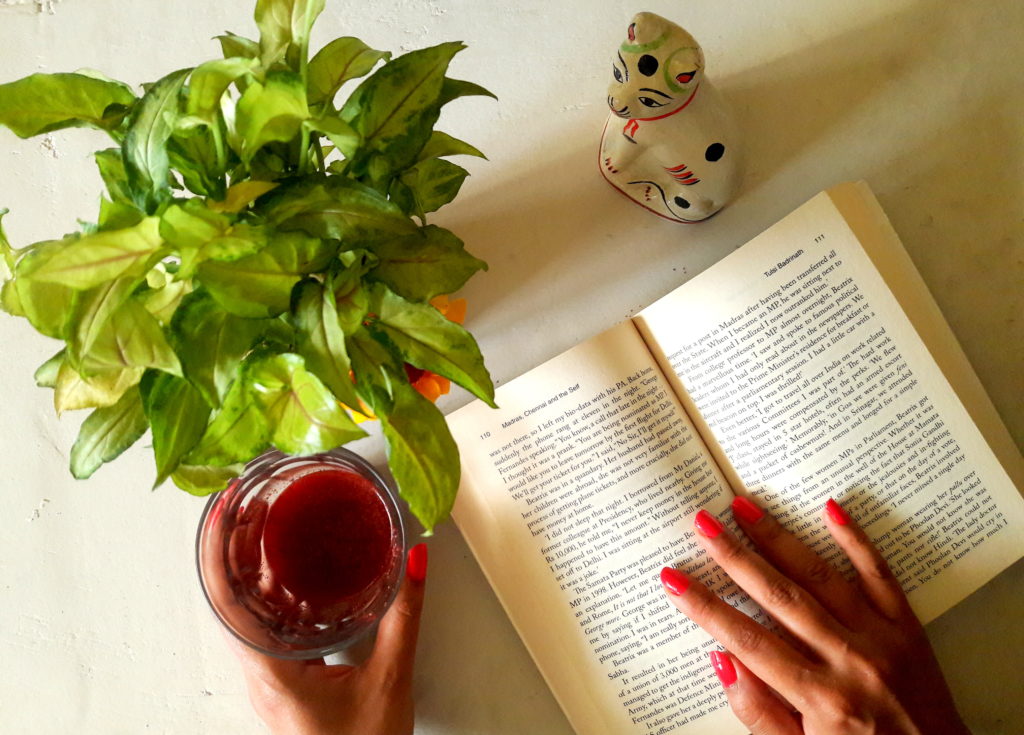 A glass of kanji a day keeps all doctors at bay
We live in perhaps the most polluted cities in the world. Many a times I have thought about packing my bags and running away to Goa or the mountains, but for a big city girl used to the finer comforts of life and the noise, it's a hard decision to make.
For the first time ever, I've been beset with allergies, having broken my own record for sneezing in the past few weeks. Pollution is wreaking havoc on our bodies in more ways we can understand. Optimum health requires great immunity. And the best way is preventive. The best thing about living in India is that everyone has their own totkas for that boost. (We got Atmantan's Dr Manoj Kutteri to write us an article on immunity boosting Ayurvedic methods here.)
I wake up with a spoonful of lemon juice in a luke warm glass of water or a glass of celery juice. We eat a lot of ginger and garlic in our food. Turmeric is our friend. I've been eating a spoonful of grated turmeric before my nightly green tea. And a spoonful of wheat grass powder every morning, which has changed my life. You can sip on hot water regularly, drizzle some cinnamon, pepper, or whatever catches your fancy. We eat fermented foods regularly (think your idlis, dosas, kanji and whatever pickles you've fermented in the sun) and lots of fruits and vegetables. Check your vitamin levels and visit a doctor if required. And it's a must to get a regular health check-up after the age of 30. Let's all aspire to be Milind Soman and his delightful mum, bursting with vitality.
July: Support social enterprise and conscious brands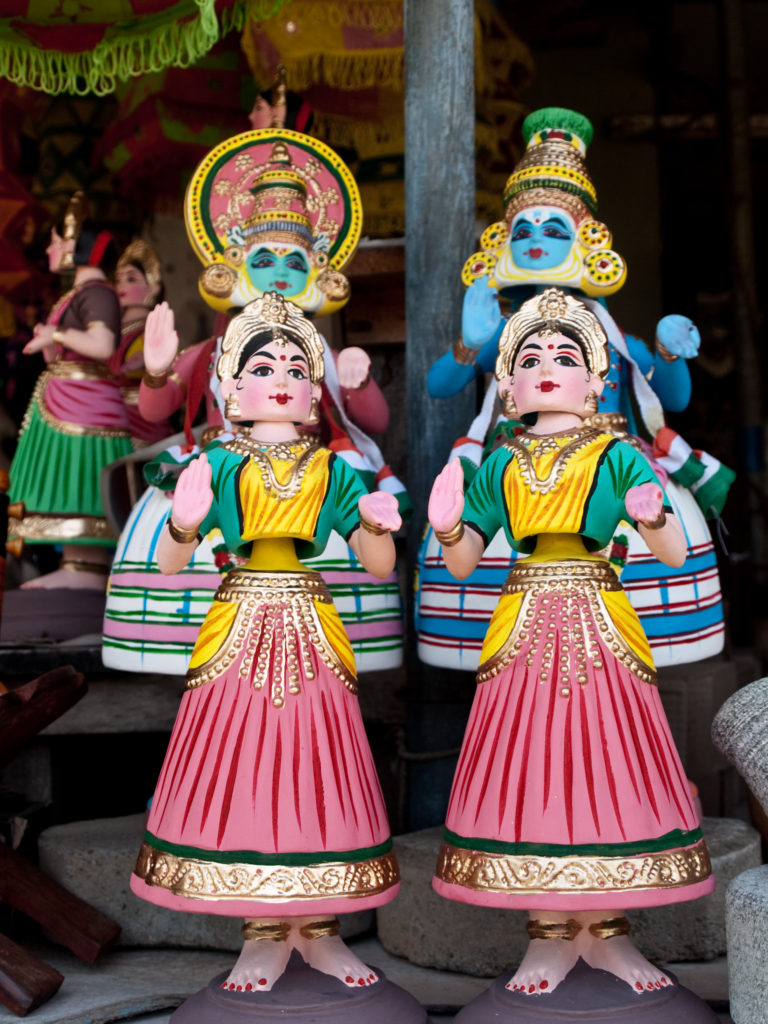 In the last few years, the market for ethical, organic, healthy and conscious brands has exploded. In India, food, fashion and hospitality brands have been the first to get their products, messaging and marketing right, such as Navdanya, SEWA and CGH Earth. But if you know the right places, it's not hard to find Made in India organic deodorants (Just B Au Naturel), responsible Indian modern fashion labels (hello, péro) or farmers' markets selling organic produce (The Farmer's Market), at least in the bigger cities. I've seen a change in my own neighbourhood. I'm a frequent visitor to the local The Health Shop and buy whenever possible at the local farmer's market that have sprung up recently at Amarson's Park, held every Saturday evening. The last time I went there I found locally grown Oyster mushrooms and pickles made in olive oil.
According to a British Council study, there are around 2 million social enterprises in India, many of which we have no contact with. In Mumbai, Paramparik Karigar, Artisans and the museums host regular exhibitions where you can get up close and personal with the arts, textiles and crafts of India and the master artists behind them. Delhi, however, has the lion's share of Make in India, right from Delhi Haat, Dastkar, Surajkund Mela, the countless shows that pass through Pragati Maidan and  the exhibitions organised by the Delhi Crafts Council and much, much more. Online, websites like Gaatha and Jaypore, in their own small way, and many more let you order from crafts persons.
August: Tuning out the noise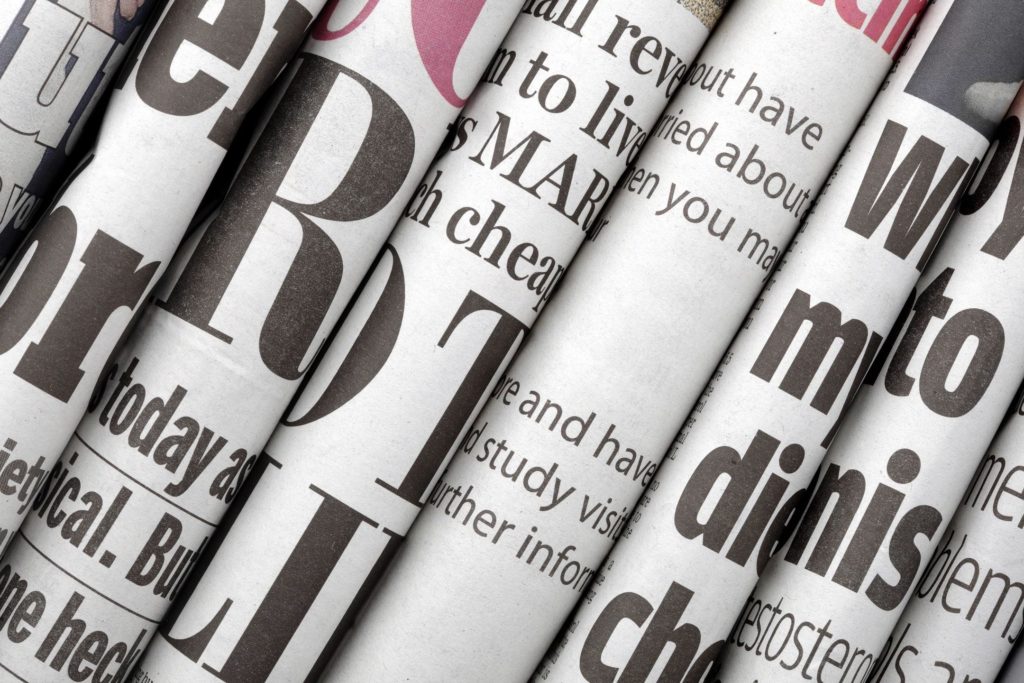 No more bad news please!
We live in an age of disinformation. A study carried out by researchers at the University of California-San Diego, believes that people are bombarded with the equivalent amount of 34 Gb (gigabytes) of information daily, an amount sufficient to blitz a laptop within a week. It's no wonder that our brains are fried.
We need to filter what news we receive and further, choose what we want to read and assimilate; since from the very minute we wake we are flooded with data. Wake up to good news, with a podcast or even a prayer, or best, silence and gratitude, rather than just scrolling through your news feed on your phone. The newspapers too read with some restraint, starting from the back forward. Leave the bad news for later, or skip it altogether. Some people just order the Sunday papers, which is a great idea. On social media, over the years, I'd  accumulated 100s of news sources to follow. It helped me immensely to unfollow many of them, sticking to not more than ten trusted sources. Block the trolls, the negative nellies and the trouble makers and unfollow the acquaintances. What's tricky is negotiating the family and friends' whatsapp groups. A surreptitious ghosting works. If something is important-someone will inform you. Nix forwards at the source. We've lived without news from multiple sources for decades; we can surely survive without so much information.
September: The Digital Detox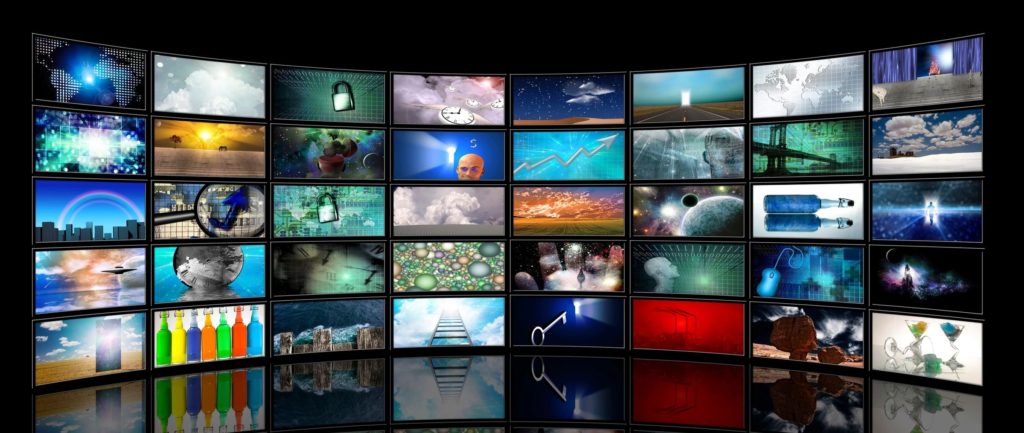 Here's a screen, there's a screen, everywhere there are screens
Last year I read a horrific article stating that China had 23 million internet addicts, dubbing it as electronic heroin. We're all guilty of a being digital addicts to an extent. We hunt for Wi-Fi enabled hotels and cafes when we travel, we surreptitiously glance at the phone every 10 seconds, and need to record every living moment on social media, as if our life depended on it. It doesn't. To be honest, the times when I've been the happiest I have absolutely no record of, because I couldn't be bothered to run around with my phone taking pictures for posterity.
Staring down on screens has led to cervical issues and carpal tunnel syndrome, and even worse. Spending 10 minutes a day doing specific neck, shoulder, and back exercises can help.
The best way to tackle our screen seduction is firstly, weaning off multiple screens. If you're working on a desktop, then put the phone away, with the ringer on a high volume and log on to whatsapp web if you cannot live without it. While watching TV or Netflix, put your second device out of reach. Keep a book, newspaper, or better nothing, in your hand. If what you're watching is so dull that it makes you want to schmooze on another device, you shouldn't be watching it in the first place. When out with people, it's polite to keep the phone on the table with the screen facing downwards or stashed in your bag.
When you're home from work keep your device aside for a few hours and on the weekend banish it into your sock drawer. IT's easier to say than do. I've deleted apps to the bare bones on my phone. I deleted Twitter and Facebook for a short time and when I reinstalled them, I realised that I hadn't missed them that much. Press the delete button on games too.
If you need a nanny type surveillance, there are apps that you can download too, such as Moment and Bosco. And switch your phone off at least 15 minute before your head rests on the pillow. You will thank yourself for it.
October: The body of the matter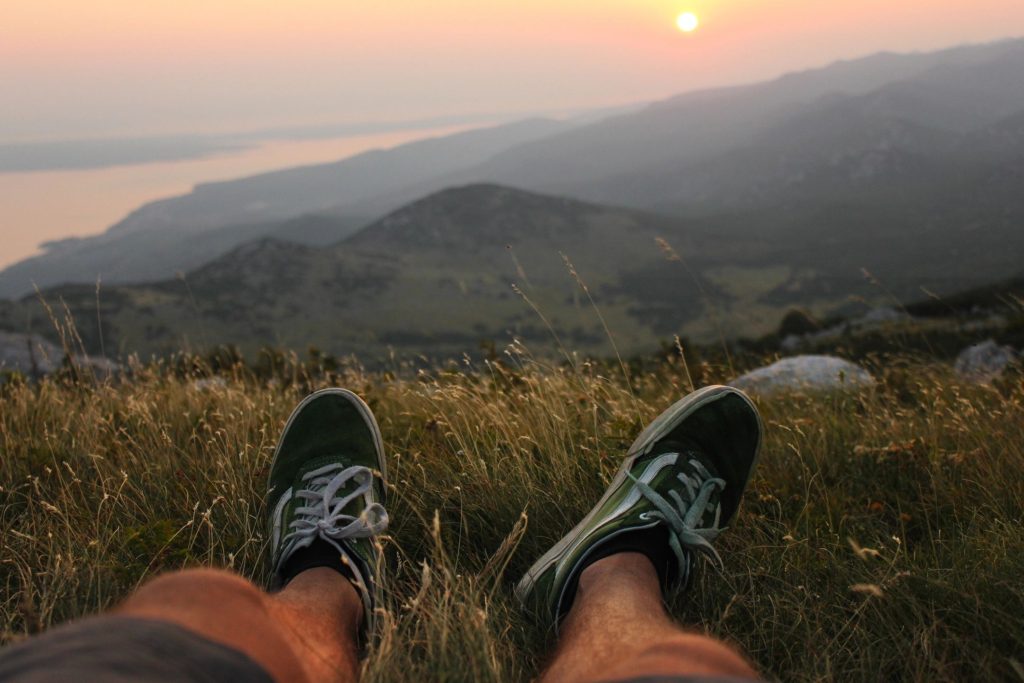 These legs are meant for running
You can get a new set of teeth, a new nose and even a new bum, but you can never get a new body in this lifetime. So, look after the one you have. With the rise of auto-immune conditions, obesity and heart conditions and more, our health and fitness should be a priority. The advantage of being alive today is that there are so many options available to get fit, whether its yoga, HIIT, Zumba or a sport. Sadly, for my favourite activity, walking, there are scarcely any sidewalks, parks and open spaces in our cities.
According to Vedanta, we have three bodies–karana (casual), suksma (subtle) and sthula (gross) sarira–all the three are interconnected. It is our gross body, the waking state, which goes through the cycle of birth and death. If stuffed with too much of the wrong food or drink and or weakened by sloth, it develops a disease (dis-ease).
While we keep our physical body fit, we need to manage stress too. Keeping the three bodies in alignment is necessary. What follows is intense. While pranayam strengthens your muscles and internal organs, cleansing the nadis, it also brings your physical self in tune with the subtle body. And meditation binds the subtle body to the casual self.
This might be a lot to digest at the moment, but what you need to know is that with each step you take with the regular practice of yoga, pranayama and meditation, your physical, mental and emotional bodies will be in sync, and you will be a happier, a much calmer person, who is attuned to your higher self.
November: The problem of priorities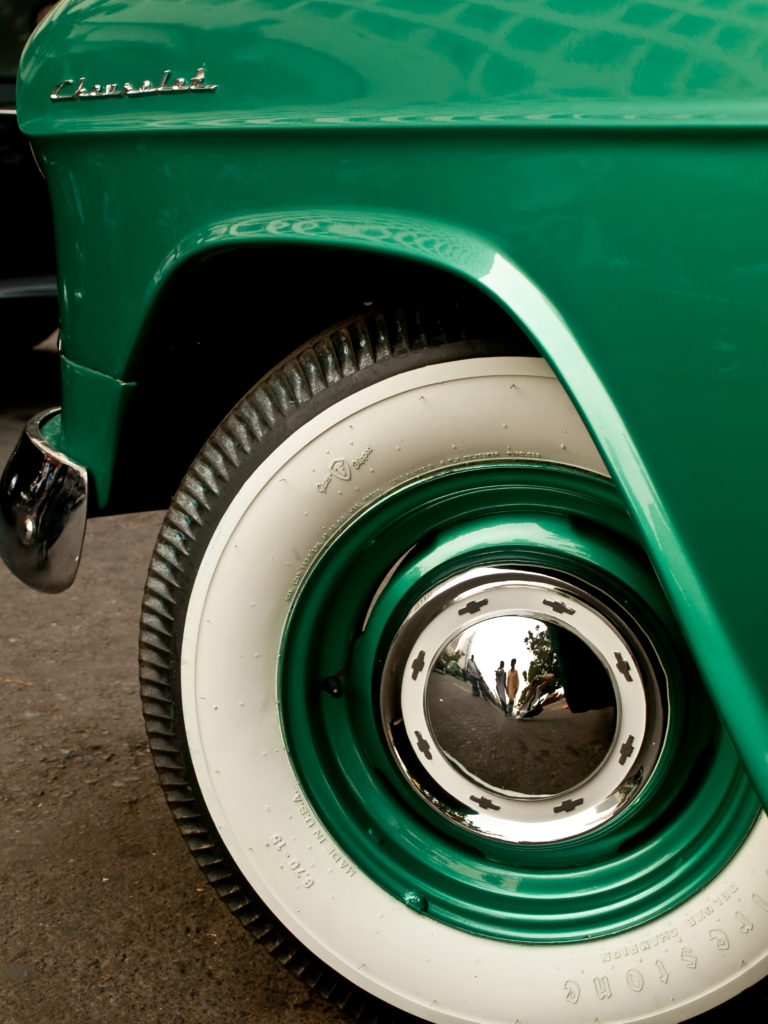 Years ago I read a story about monks who set down their goals for the year, and reviewed it every six months. I was a child and it fascinated me, as this was much before the era of self-help gurus and their ilk. They would reflect on where they were and where they wanted to arrive and charted their path to bridge the gap. Why would monks, who live sheltered lives in a monastery, have any goals, I wondered. Because I thought goals were about things to possess, not qualities to imbibe.
Listicles are the norm today. For groceries. For finding a partner. For planning a holiday. For goal setting. For the success of your website. Writing a list of 100 things that you want is a recipe for disaster. I find making a list of personal development goals more effective than a list of material goals. Why? It makes sense. There's a study floating around that 70 per cent of lottery winners lose their earnings, because the 'ordinary became extraordinary overnight.' They just couldn't handle it, and their poverty thinking got them back to square one. If you want that car, that girl or that bag, you got to own your act, not just impersonate it.
We wish for more things, more money and more happiness, but we don't wish for becoming a better, a kinder or a more helpful person. We chase too many things that will cease to have meaning once we get them. Then we want more.
Too many of us are motivated by fear when we want something. The fear of loss, the fear of being a nobody, the fear of failure. Our list should guide us to become the person we want to become for the right reason; something that's driven by love and expansion, rather than fear and contraction. Everything else will follow.
December: An effective surrender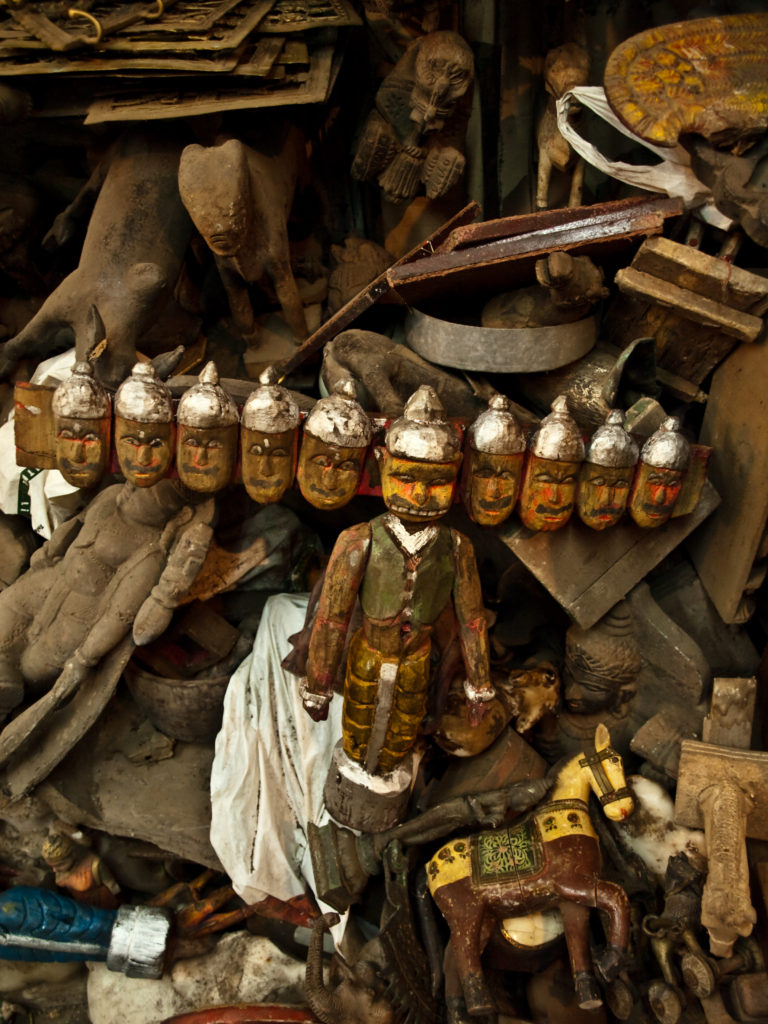 We've all heard that when all fails you must surrender. But actually, you need to flip it around. Your first step needs to be to surrender and then everything will follow through. Surrendering is not an act of giving up in despair; rather it is an act of faith, of belief, of bhakti. When the universe has already ordained something for you, why the struggle? Just be patient.
To live the slow life, you need to let go of all that doesn't matter.
Surrender also means living in the here and now, and not looking over your shoulder at the past, or trying to predict the future.
Except we find it so hard to let go, controlling people, controlling outcomes and ultimately, controlling nothing at all.  When we control nothing, we let go of our ego and fear and let the universe take care of us, which it was always trying to do in the first place. (See how our guest writer Deepti Dadlani surrendered to her higher calling.)
You don't need to burn out to let go. You can do it here and now. Give up all resistance, take a deep breath and take the plunge. The slow life waits for you.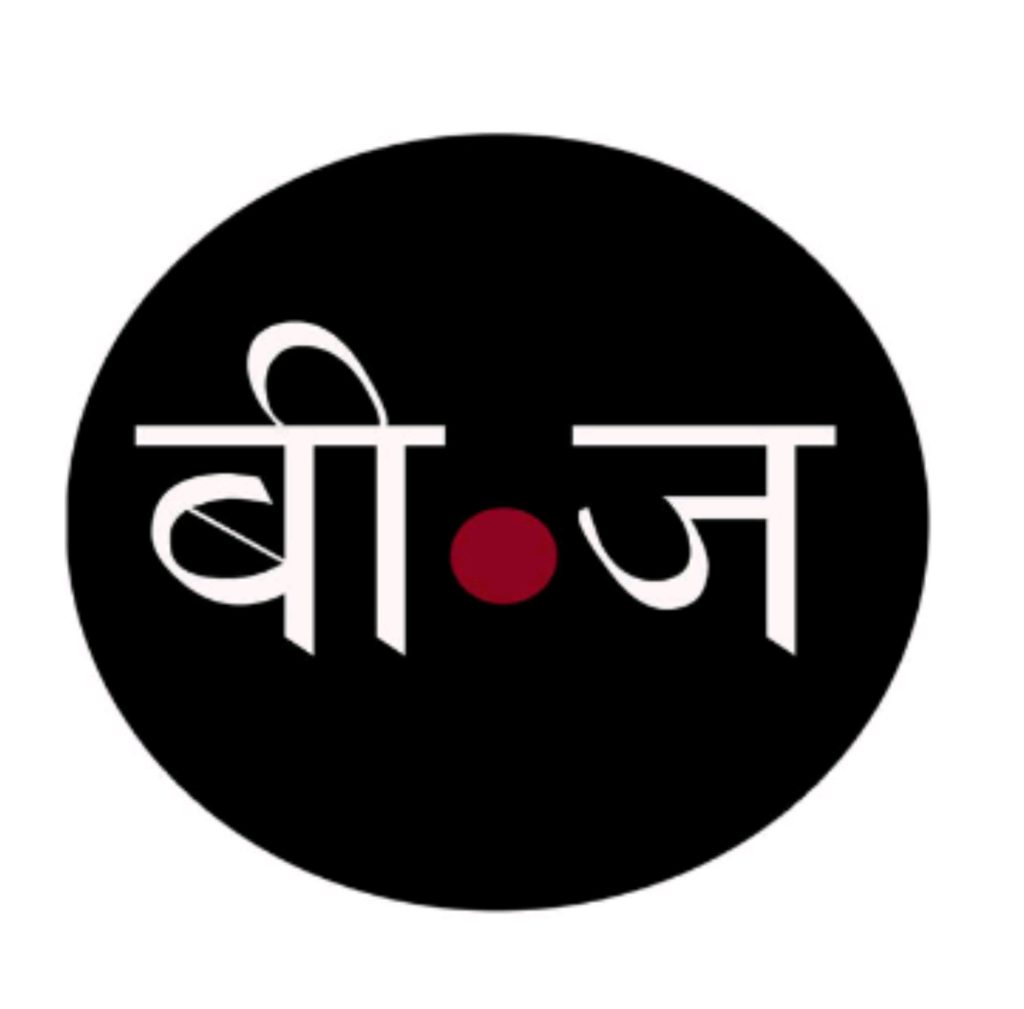 ---
---