A Humane Intervention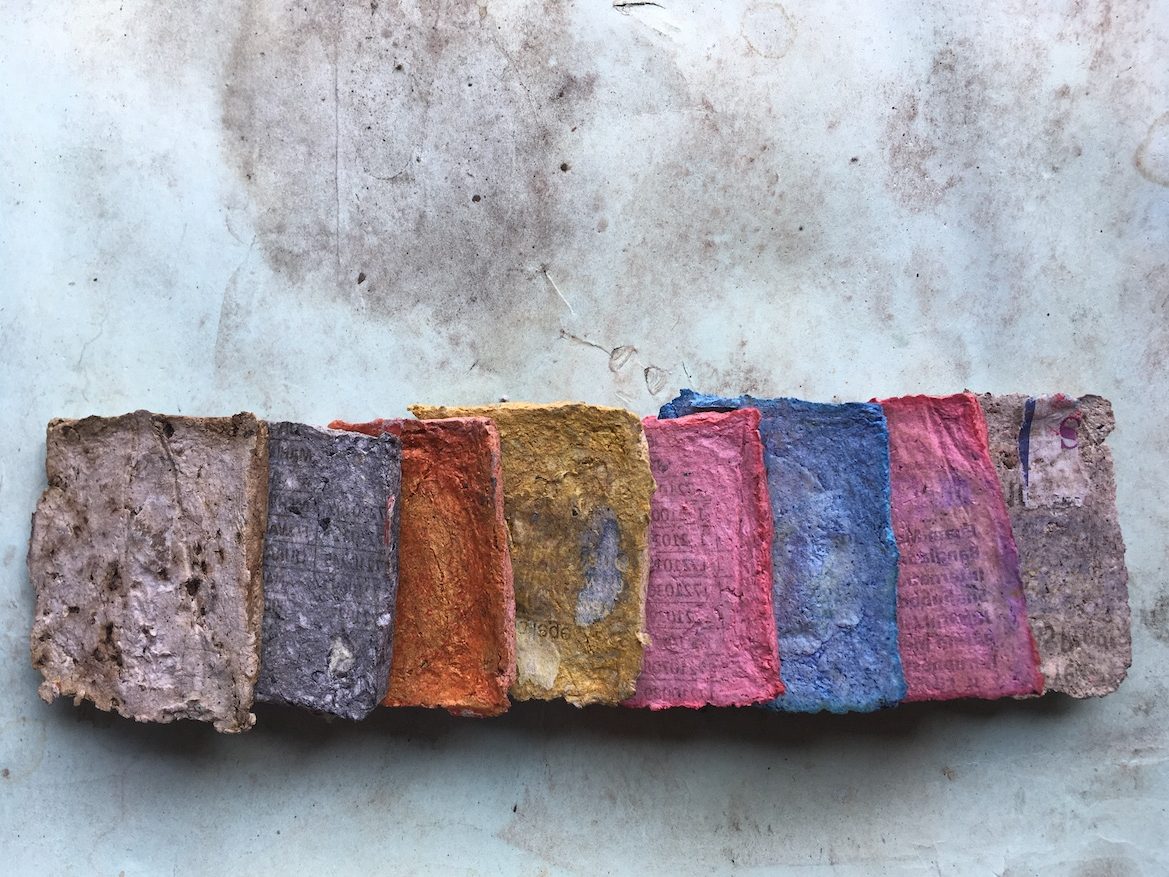 Designer and co-founder of design house, Unlike Design Co. (www.unlike.in), Harpreet Padam graduated from the Accessory Design Department at the National Institute of Fashion Technology, New Delhi in 1999. Harpreet and his partner at Unlike, Lavanya Asthana, a communication design graduate from the National Institute of Design, Ahmedabad, are also the founders of accessories webstore TOWITHFROM (towithfrom.com). Recently the OID Bidriware Boxes set designed by him won the Tabletop Category at the Elle Decor International Design Awards (EDIDA) – India 2018.
His Instagram account is a wondrous record of his craft interventions with artisans of India. For BeejLiving, Harpreet writes about the human face of design and the delicate balance between automation and hand craft.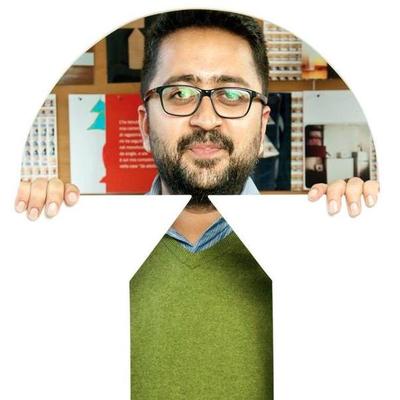 "When I was studying at NIFT, the accessory design department was a unique offering within the strong apparel-based design programs at NIFT. On the one hand it complemented the fashion industry, on the other it also laid stress on personal and home accessories. Because of the width of the program, craft and craft products received much attention. Students would constantly be exposed to Indian crafts and traditions, finding ways to enrich them with their detailed design learning, while in turn gaining much more in return from the Indian craftsman.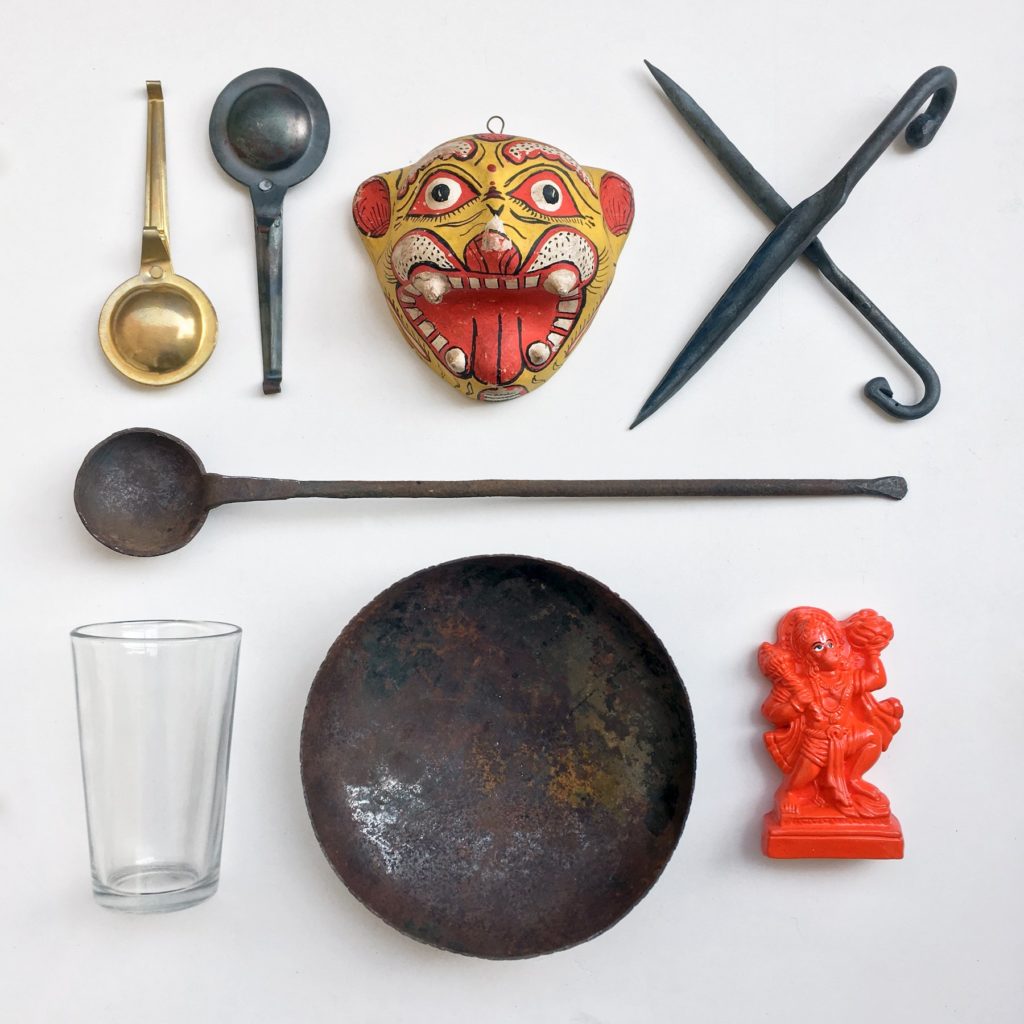 Some travel souvenirs he picked up on one of his recent travels
At that time, I was quite uncomfortable with the idea of things made by hand. I liked collecting things that showed off their hard, industrial parentage and avoided being associated with anything that was not an absolute replica of the piece that was made before or after it. For these specific reasons, I shied away from handcrafted objects, from craft. I could not relate to the idea of a group of humans sitting together to create, in my opinion back then, products with evident flaws, marks, discolouration and dissimilarities of varying degree.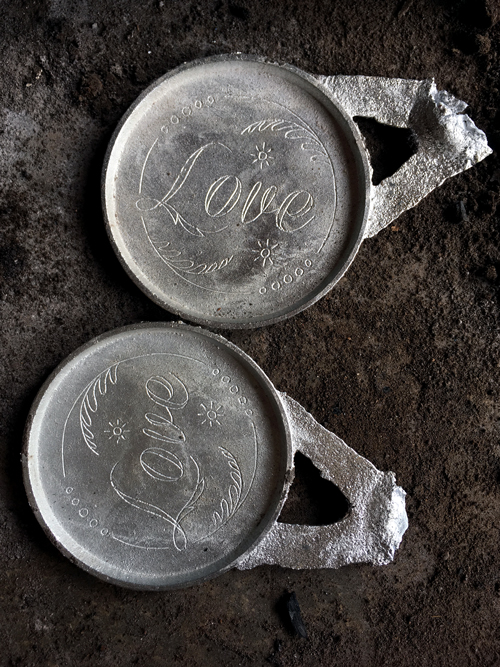 WIP sand cast pieces of Bidri work are filed, brushed, sanded and cleaned to prepare them for the wire inlay
Fortunately for me, the people who understand the minds of young designers and set the curriculum for design education had anticipated this issue. My interest in local craftsmanship began with a group trip to Rajasthan somewhere in the middle semesters. The itinerary included travel to dots on the maps, towns such as Beawar, Naseerabad, Kishangarh, to study the craft communities there. Blessed with the newfound freedom of being young and on the road, it turned out to be a surprisingly exciting experience. At that time I learnt that craftspeople react wonderfully to curiosity and attention, and I had enough to provide. Six months later there was another trip to the Kumaon hills to document the architecture of the traditional hill houses. It was a spectacular trip. Kumaon being Kumaon, a tiger was actually involved, and so were some thrilling bus-top rides around the hairpin roads of the mountains. By the time a third craft interaction came along, it dawned on me that travel was an intrinsic part of working with craft communities. And travel was fun.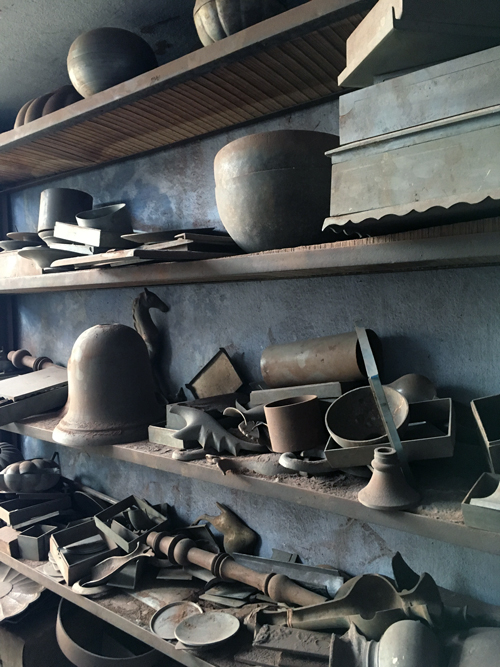 A Bidri workshop
What was also interesting was the fact that in craft-based design, one's work undergoes a transformation in the hands of the maker. Unlike industrial design where this may result in catastrophe, such transformations are celebrated in craft. I enjoyed this learning. When I eventually graduated from design school in 1999, I had worked with seven different crafts and a collection of hooks and hangers I had created with the Etikoppaka wood turners were already retailing in Germany. For a young designer starting out, this is extremely encouraging.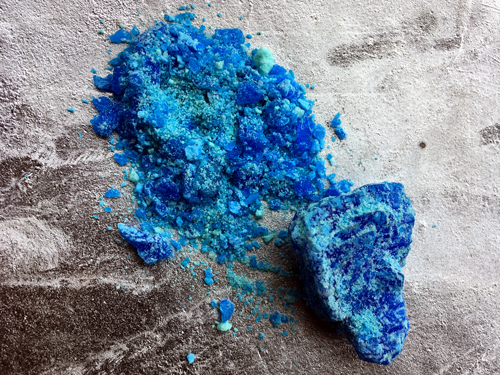 The copper sulphate is bright blue in colour, and the dabbing produces a black patination over the surface of the master design of Bidri
For the next few years, I didn't really get the chance to work much with craft communities owing to my crisp corporate big-city employment. Perhaps the only time I did was when I was asked to travel to a village of weavers in Karnataka to convince them to weave using genuine gold fiber. The product was a World Gold Council award-winning piece designed by a colleague and good friend. A lot of things went wrong in that project. I think the fact that I was travelling with so much gold on me was more of the issue. Negatives apart, living in a village for a week provided me with the vast spectrum of learning that craft provides. Even if on some days it was just a quiet hilltop observation of how sunset impacted life in a village. Craft teaches one to approach, interact and belong to a community of people, even if only for a little while. And when problems arise, you learn to tackle them amicably.
Many years later, when my partner and I launched Towithfrom, our online store to retail our self-commissioned design work, we ensured that half the products had handmade origins. Which is a strange thing to say really, because whichever way you look at it, almost everything around us is of handmade origin. More or less.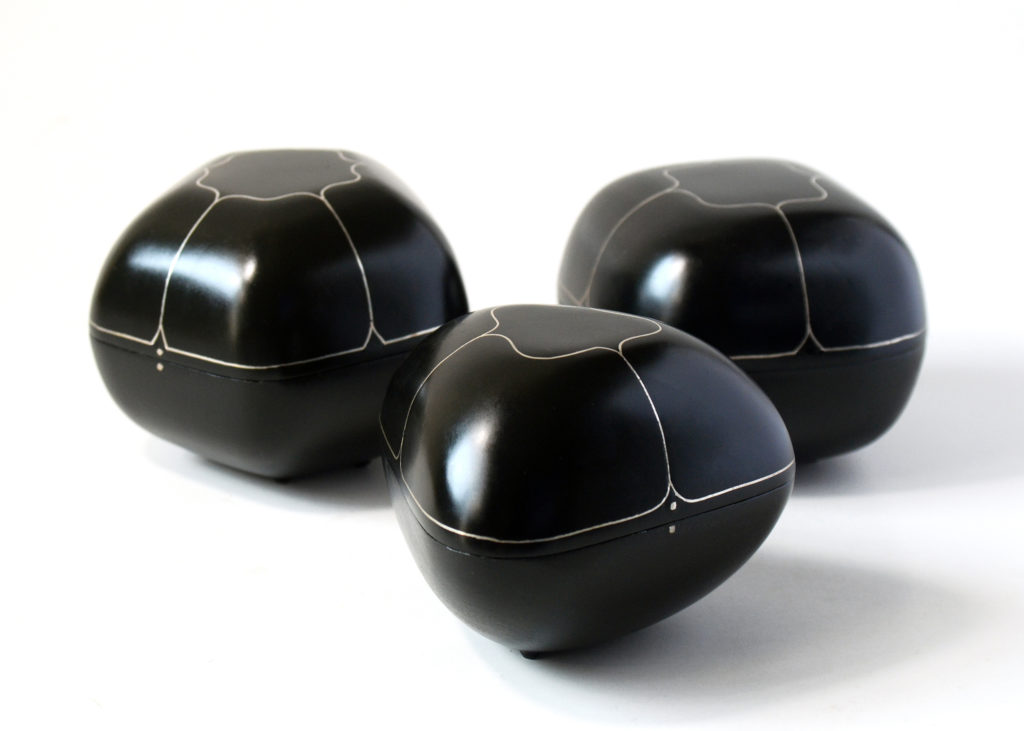 The award-winning pieces of Bidri work
In the past two years, a deluge of craft projects have come my way. I was asked to conduct craft design workshops in Bidar in North Karnataka, and to produce a collection of objects based on the interaction. The craft was Bidriware, a traditional craft form I had seen and touched, yet never seen it being made. The workshop offered me the chance to work with, as I realised later, one of the most dynamic artisans I have ever worked with. Mohammed Abdul Rauf is an award-winning Bidriware master, a living treasure (as the Japanese way of addressing master craftspeople). In my two weeks at Bidar, I learnt much from Rauf Sahb – about the history of his craft and of its meaning today. But most importantly, I learnt courage. Courage to step into new territory, to take on new assignments and projects without fear. When one discusses a new piece, project or technique with him, he jumps into the heart of its making, instantaneously. No questions, no whining, no long deliberations. He simply begins.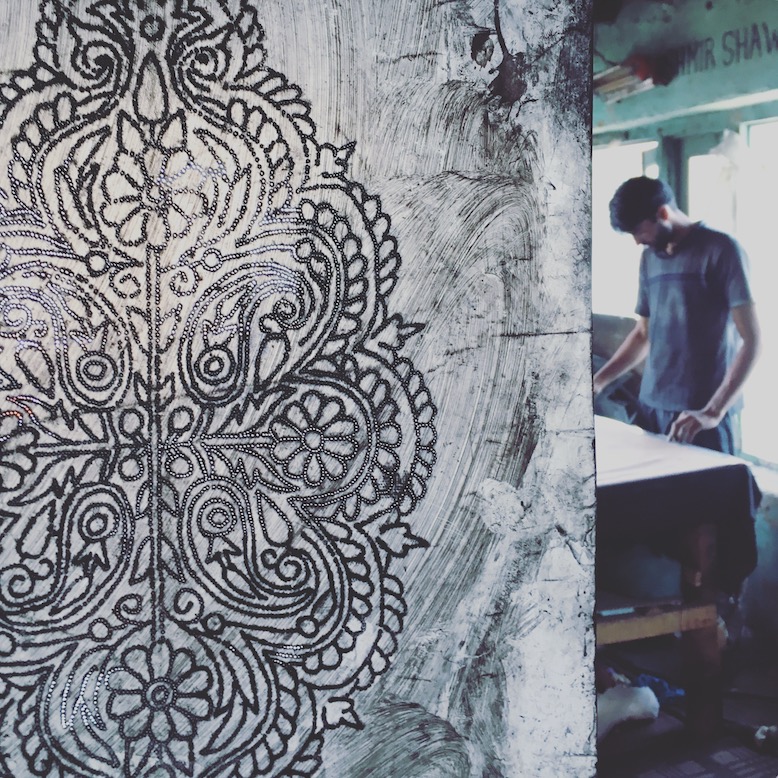 A WIP in Kashmir
A craft object pulsates with a sense of place, and in some way so does its maker. As a designer of craft objects, one is basically entering a domain that was once the sole realm of the maker. Perhaps an important reason the designer steps in is to refresh the artisan about the changing nature of the marketplace – increasing work efficiency, costing and pricing, considering the local ecology, documenting techniques and introducing marketing possibilities.
Another benefit of a designer's intervention is to update the artisan in a technological sense. What tools can improve their work quality? What new material or process can save their time? In discussions on craft design though, this is a controversial topic – technological up-gradation. Many concerned minds believe that machinery should be kept at bay from the artisan's handmade process. Others believe this cannot be controlled and no-one but the artisan herself has the privilege of choice. What if a comb maker for example, learnt how to operate autocad and started cutting comb profiles on a laser cutting machine? What if the metal engraver learnt of chemical etching and started using the same? Would that mean the end of the craft? Would we stop calling the practitioner of such acts an artisan?
It is of course worth a thought. Worth much thought. I personally feel as long as the artisan is able to determine their core hand skill and retain the same, they may pretty well benefit from any process, technique or machine that can improve their peripheral work process. That is also in a way the test of a good artisan-someone who realises that one singular core skill that gives their craft its identity. But this is my belief. One must co-exist amongst many thoughts and beliefs. And that is the way of the world.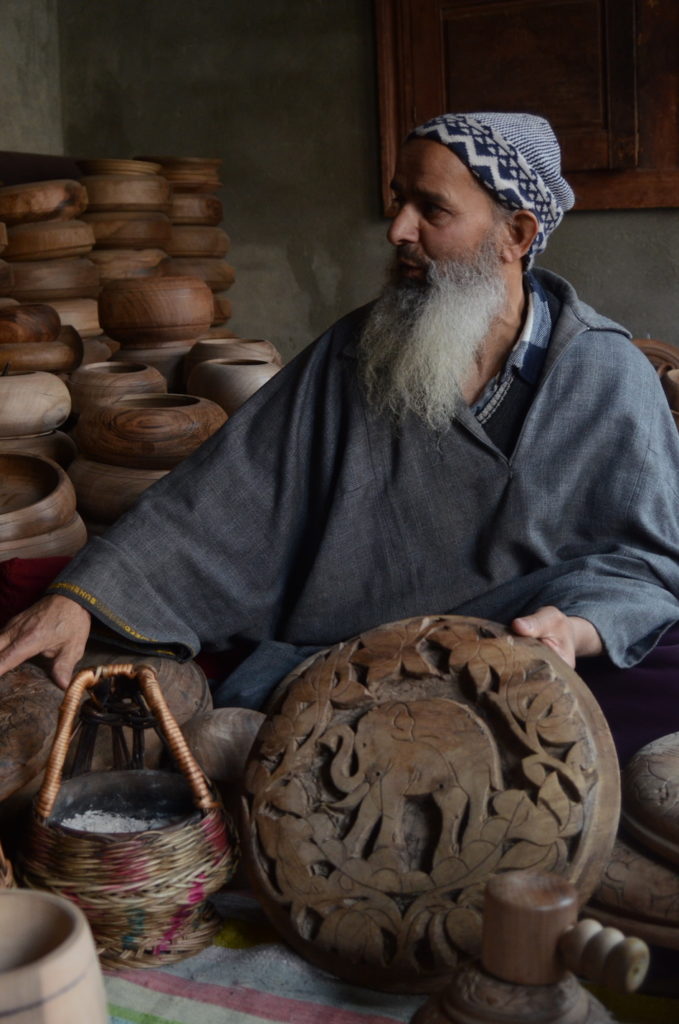 Master Craftsman at work in Kashmir
One of the latest craft interactions I have been a part of is the Commitment to Kashmir initiative. Backed by the Commitment to Kashmir Trust, the project is partnered by Dastkar, CDI (Craft Development Institute Srinagar), NIFT and The Titan Company. For the past one year, a group of designers have been travelling, staying and working in and around Srinagar with traditional Kashmiri craftsmen who have been identified for their entrepreneurial bent. It has been one of the most transformational projects in craft for me, to date. I appreciate it so much because the brief asks the designer to provide the artisan with more than just product development. Which is a challenge, especially in a region like Kashmir.
In a year of working between Delhi and Srinagar, I have learnt the power of resilience from Kashmiri artisans. They realise that they cannot perhaps do much to change the political smog that surrounds their future, but they also realise that their work is important, despite the circumstances it survives in. How should the making of a copper flower vase stand up against the threat of being maimed by pellet guns? But they realise it does. It stands up, and more. As Phil Ochs the folk singer said about the Vietnam war, "But in such an ugly time, the true protest is beauty". This is the truth about the Kashmiri artisans and their craft today. They continue to produce beautiful work, and isn't that a protest in itself?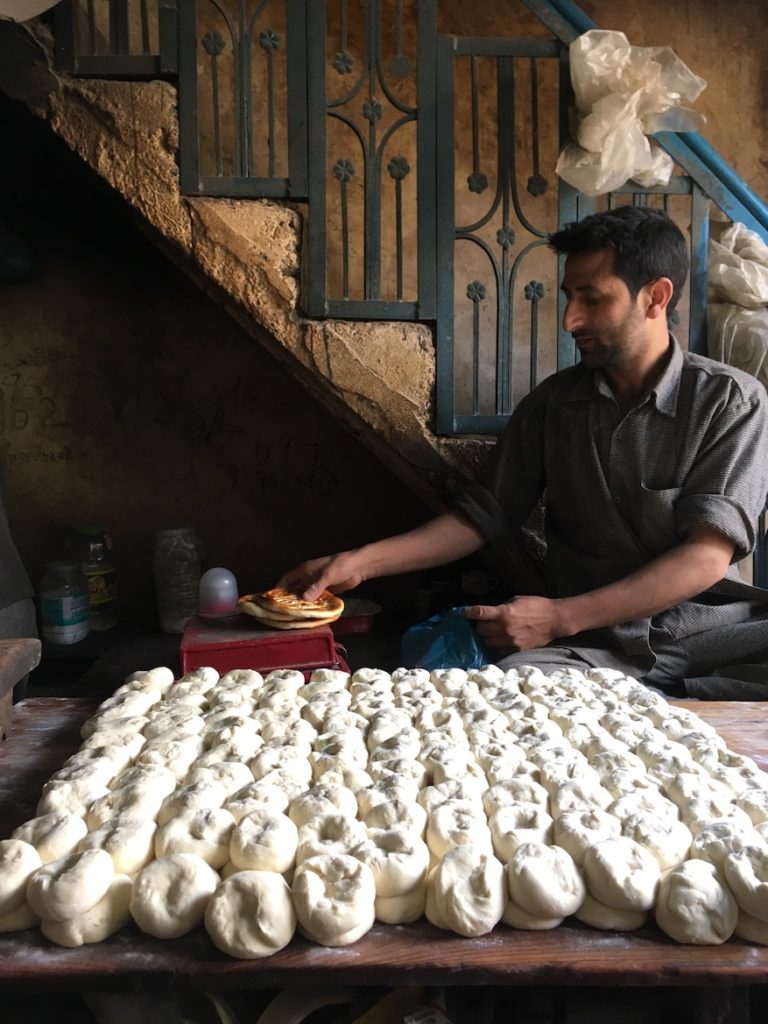 A snack break in Kashmir
As the project draws to a close, I can say that I have learnt as much from the artisans as from my fellow designers, each of whom brings with them their own unique wealth of experience, and information. It is interesting to observe the discussions between designers who work with craft communities. The wide ranging topics almost always include delicious cuisines from known or little known cultures, behaviour and customs, anecdotes based around language incompatibility and relationships that have lasted longer than projects.
Relationships. At this point of my journey with craft, I think I hold this word in the highest regard. The designer is a human as much as the maker, before they can be identified by what they do. If one understands this, they shall always do well in craft-based design.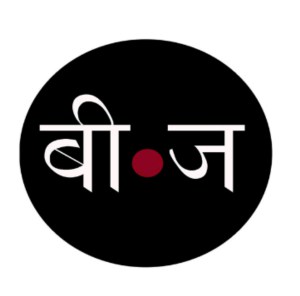 ---
---