A 'Sui' in Time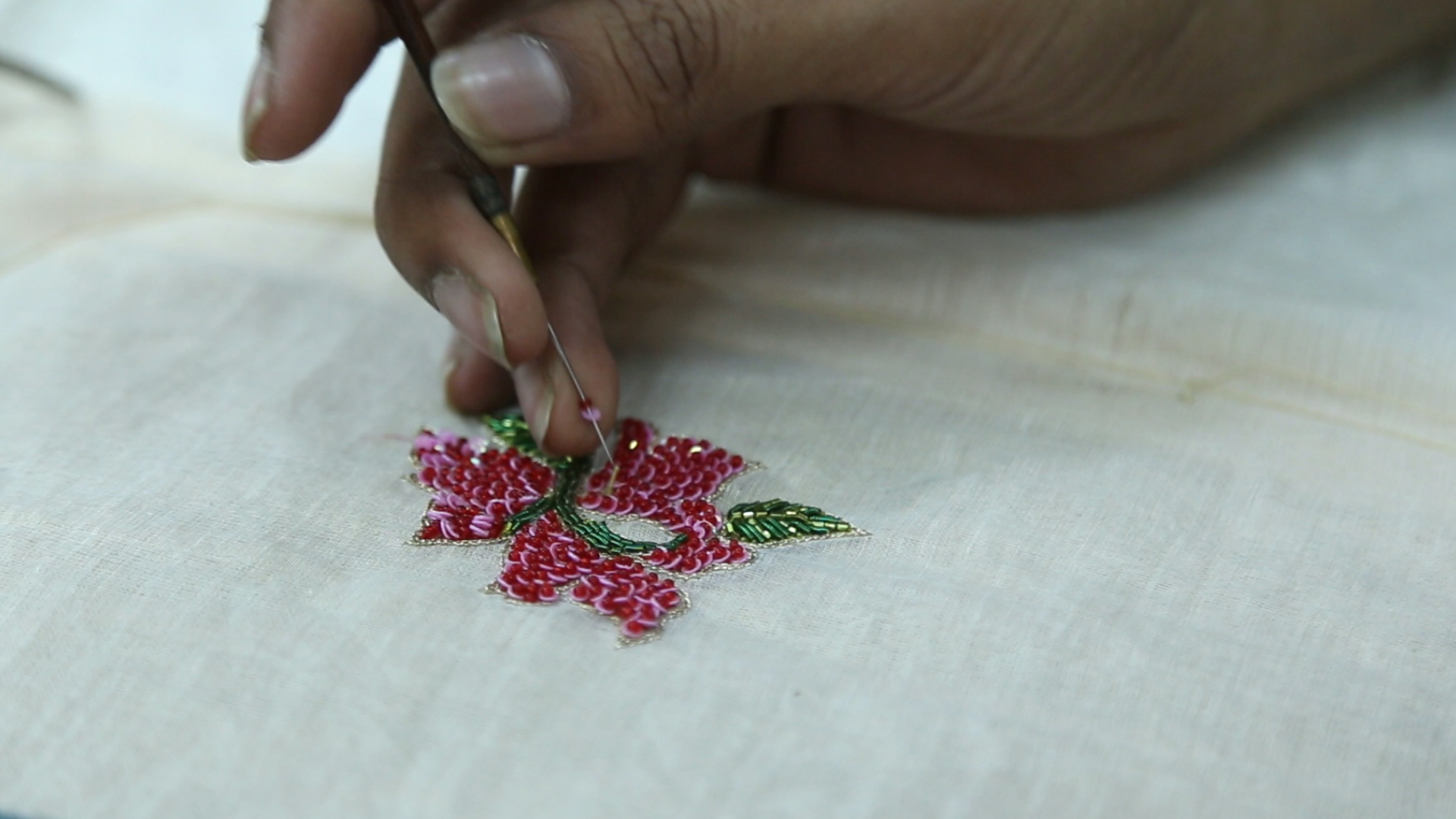 Third generation entrepreneur Mahima Gujral's love for travel is the inspiration behind her fresh sustainable indi luxe label, Sui by Sue Mue
I opened the small box. Bundled with the brochures were a couple of swatches of soft hemp and organic cotton, an up cycled bag and a tiny wooden place card holder with inspirational tags. Lying beside these was a tiny soft, green coloured bag. Inside were two spools of threads and needles. This was my first introduction to Sui (needle)—a young Delhi-based conscious fashion label that connects the threads of travel to clean design.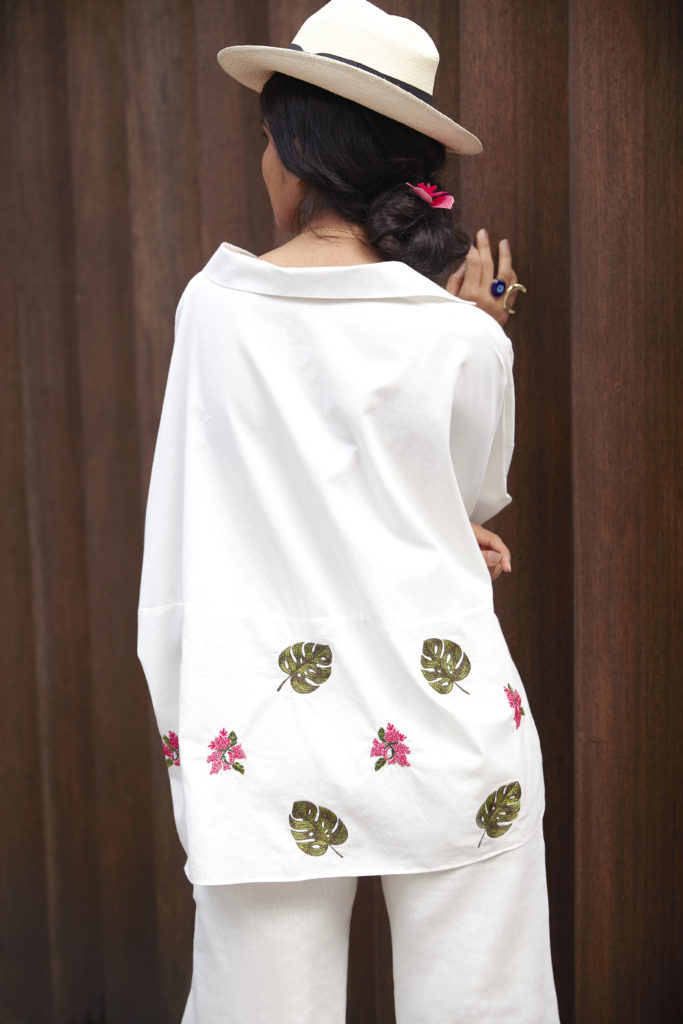 Slow fashion label Sui is inspired by journeys
The brand's founder, entrepreneur Mahima Gujral, straddles the worlds between Singapore, where she lives, and Delhi, where the production takes place. She grew up amidst gossamer threads and reams of yarn, immersed in her family business, Sue Mue, which has sustained itself for over half a century. Observing her family at work, she understood the elegance of bespoke couture, the textures of fabrics and the beauty of embroidery. She realised that in the world of fashion, the fabric of human relationships was to be deeply valued.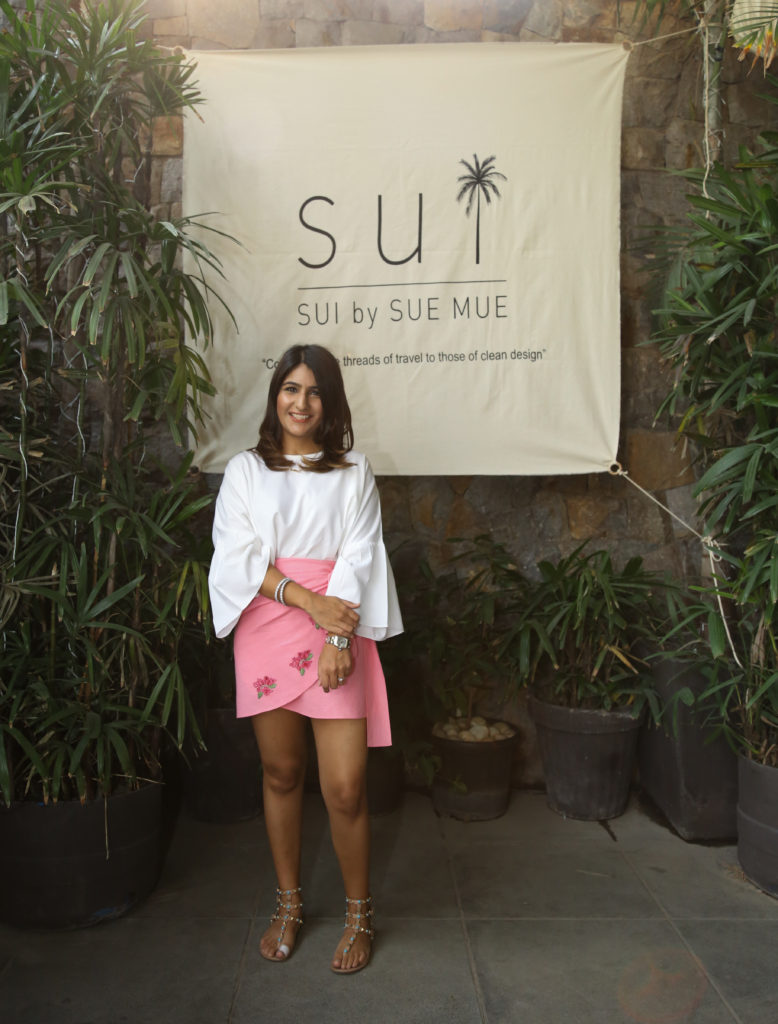 Mahima Gujral is a third generation fashion entrepreneur
Her first brush with slow fashion was while studying in Milan. She picked up the nuances of conscious clothing, visiting brands such as VBC and Albini, which carefully guarded resources while promising pristine quality. Milanese street style fashion was a hybrid of fast fashion and rich luxury. It was exciting for her, and yet, an overwhelming experience. "The surrounding over consumption got to me. I felt the need to invest in quality, connecting with the clothes I wear. The phrase 'less is more' finally started making sense," she says.
Returning to India last year, she cut loose fast fashion from her life to the maximum extent possible. "This was a personal decision—a choice made to understand the psyche of a conscious consumer in today's world," she says. While Gujral was volunteering with industry watchdog Fashion Revolution in Singapore, the idea of Sui blossomed. "It is our platform to dive into the world of conscious and thoughtful fashion that gives back to the planet and feels light on your body and soul," she says.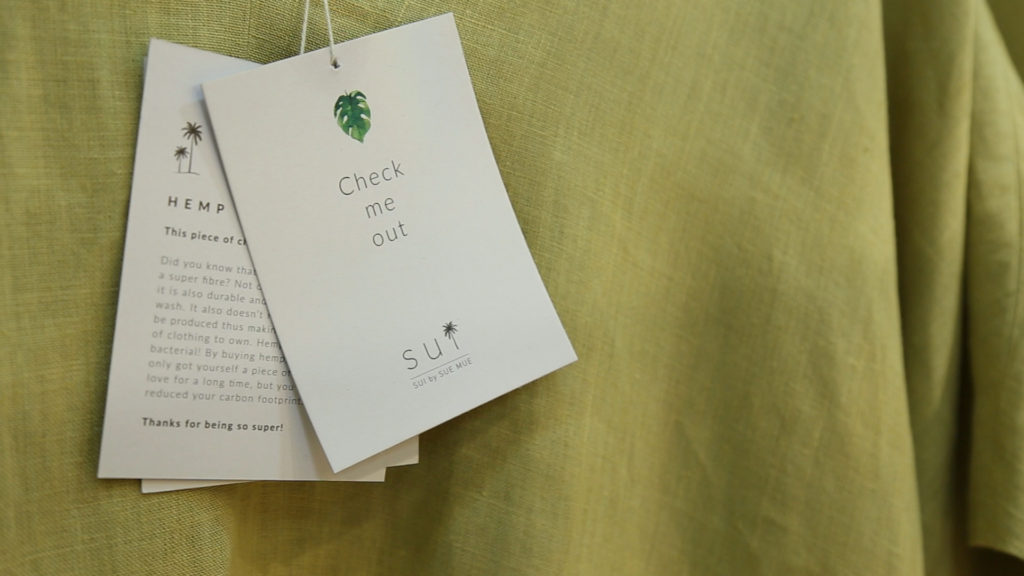 Her use of hemp for the label has sparked a conversation with consumers
For Gujral, journeys inspire, energise and fascinate. She takes BeejLiving on her journey with Sui, imagined as a made-to-order label, stitched by karigars who have worked with the family concern for decades, using sustainable azo-free dyed fabrics and recycled packing. Sui's beauty is not more than just skin-deep; it lies in its character.
What does slow living mean to you?
It is moving away from clutter, taking time to breathe and appreciate the little details around you. It's about building real connections and creating moments, pausing, even if just for a little while.
Tell us about your childhood. Being a third generation entrepreneur, how did Sue Mue influence you?
Growing up, I would always visit the Sue Mue store after school, hanging around, observing my grandparents and my mother. Over here I understood the concept of the term 'work family.' My first mentor was my maternal grandfather who taught me to respect the people I worked with. The love and appreciation for them was visible in their work: a love for intricacy, quality and craftsmanship. Every hand that touches a garment deserves respect and recognition. I wanted to take these very values of Sue Mue to a wider market segment, exploring new avenues with Sui.
Today, the joy I find in sitting with the design team and working on outfits is inexplicable. There's something special about seeing a garment coming to life from a mere sketch on the paper.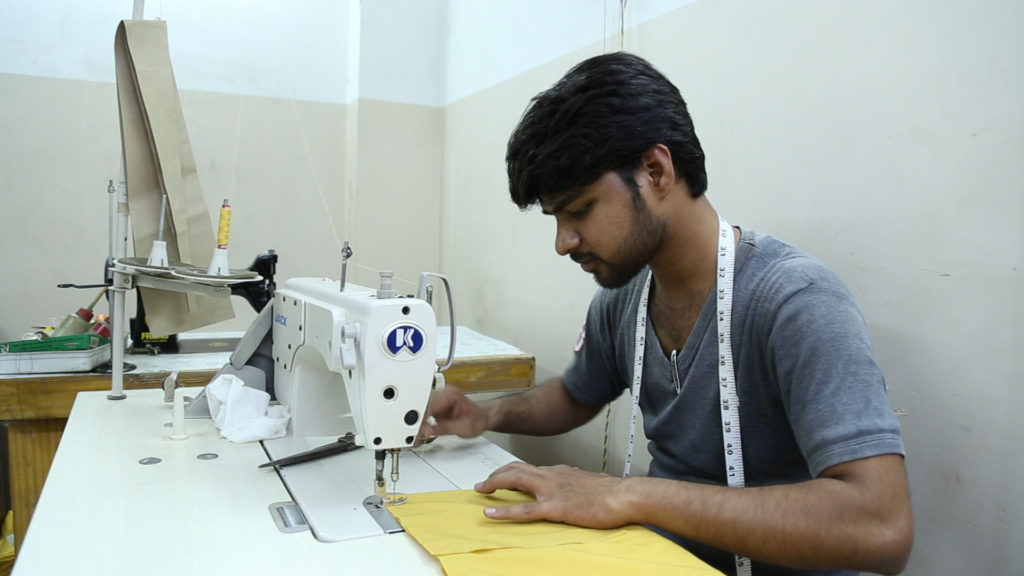 The garments are made-to-order, thus limiting wastage
Travel is an intrinsic part of Sui. Tell us more.
Honestly, Sui's journey started with travel, thanks to my dad. Through travel I learnt the real value in discovering the world at a very young age—visiting a place and capturing its essence, be it the streets, the sunsets, the food, the people and the views. I knew somewhere that I would find a way to connect travel with the love I had for the fashion industry—Sui is our platform to dive into the world of conscious and thoughtful fashion.
Our first collection is called The Palm Stories inspired by travel tales from Italy to Bali, drawing colours and silhouettes from travel photos.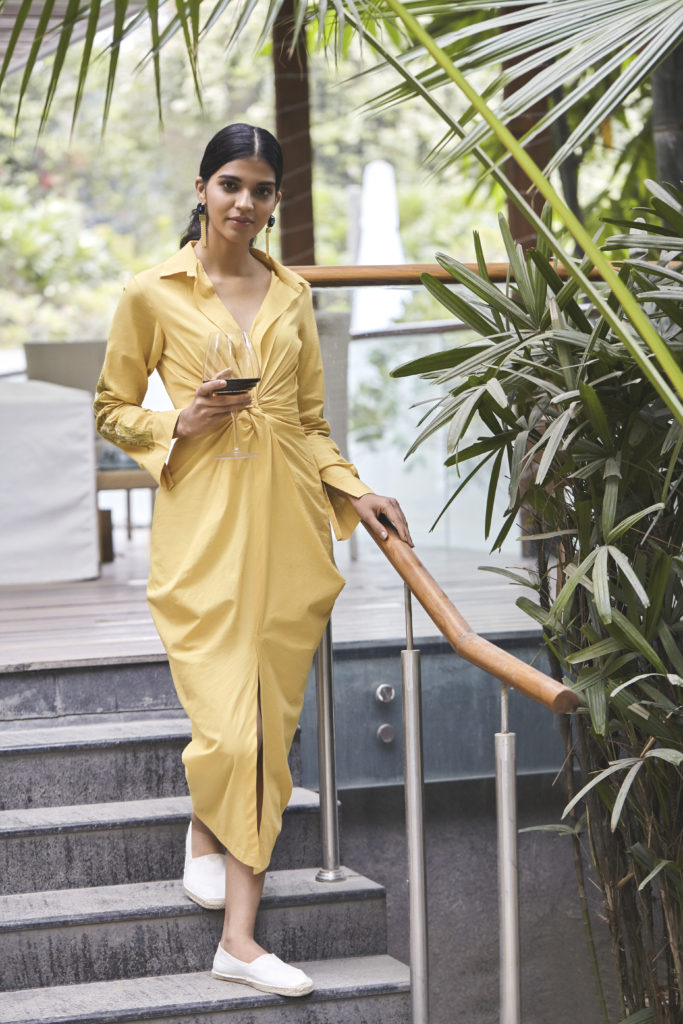 The Palm Stories, inspired by the coast and the tropics
How green is the label at heart?
We are still learning! We are a thoughtful fashion label, which takes small steps to be earth-friendly.
Our fabrics are our biggest strength – I was clear from the start that the vendors I worked with would be aligned with the vision on Sui. We were lucky enough to stumble upon two great vendors. Our organic, pesticide-free cotton is grown in Madhya Pradesh and produced by our partner Herbal Fab in Gujarat. Our hemp partners are the wonderful people from BOHECO. This super fiber gets softer with every wash. Hemp is anti-bacterial, and it helps you reduce your carbon footprint too!
We currently work with azo free dyes, which are the second best step towards a cleaner garment – I do hope to make a shift towards natural dyeing soon.
Our clothes are produced inhouse, by a small team, helping us assure responsible work conditions. We work on a made-to-order basis, where by we do not over produce our products and work with the demand. Slow and steady is our mantra! This helps curb wastage, allowing us to make a fresh piece for our customers. We innovatively upcycle scrap.
The packaging is created by Texool, which upcycles hotel linen and creates cloth bags, and our labels and brand collaterals are made primarily from recycled paper and soy ink.
We are consciously moving away from plastic, this isn't easy but we are learning along the way.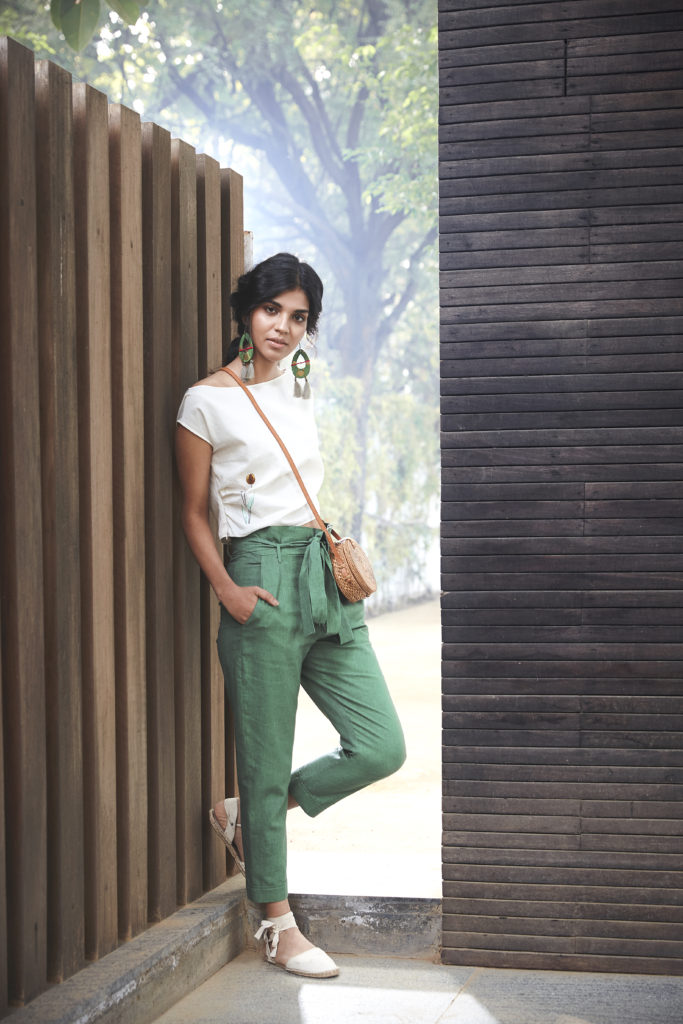 Breaking through the clutter, Sui is making clothes that matter
What sort of conversation has sustainability sparked with customers?
It's a great time to be a part of the industry; you can see the shift, with consumers responding in a positive manner. There is an appreciation for our fabrics and our story. Though many of our customers were familiar with "organic," educating them about hemp has been interesting. They're curious about it and want to know more, which I believe is truly the first step towards change. Many are not aware of hemp's origin (cannabis) and its durability.
I feel the biggest challenge is reaching out to the masses and making them understand why it matters. We live in a world where finding your voice in the clutter is the issue, hoping that people understand your roots. Everyday is a hustle!
Where do you look for inspiration?
Travel. I enjoy losing myself in the city or the place I'm in. I'm a sucker for the coast—a beautiful cliffside getaway. I enjoy getting out and about, taking photographs and writing.
I'd go back to Italy, Spain, Paris and Bali in a heartbeat. Music inspires me too. The one artist I always go back to is John Mayer.
So, how would you measure success?
It's about finding balance between your work and life, and being comfortable with it. The day I achieve that I would define it as success.
We are working on new collection with new, versatile fabrics, and will take Sui to other cities across India, building connections with new customers. Next year, I hope to launch the brand in Singapore. My fingers are crossed!
---