Roshan di Kulfi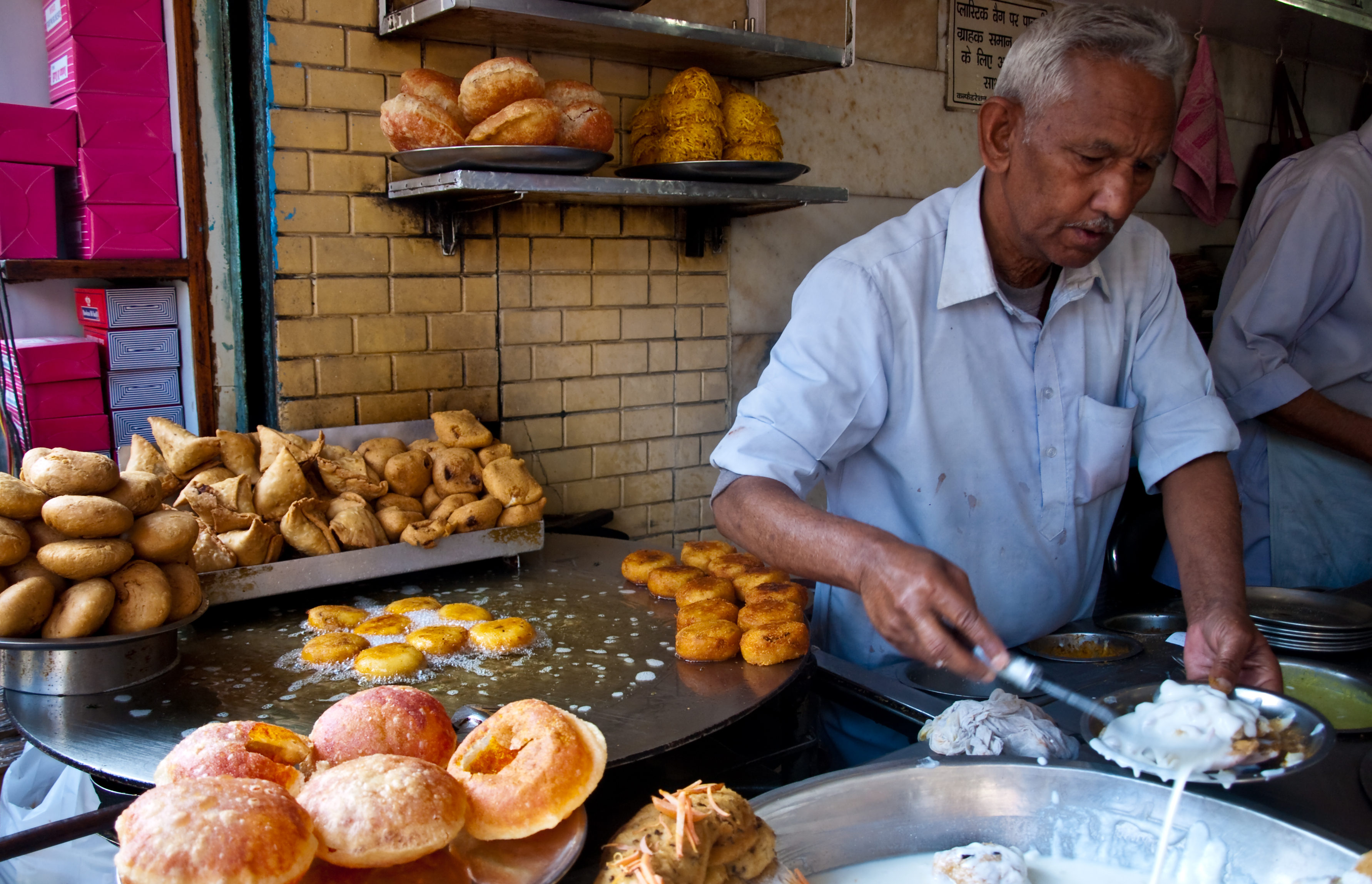 An organic part of the 1950s Karol Bagh mohalla it set roots in, Delhi's Roshan di Kulfi continues to pack in the crowds for its hearty fare of channa bhaturas, aloo tikkis and creamy kulfi
Having grown up in Delhi, before the malls sprouted up, Karol Bagh was one place where people would shop. The oldest settlers in the new city moved here, before moving Southwards.
This was a piece I did for BBC Good Food on Roshan di Kulfi.
As you approach Roshan di Kulfi at Delhi's bustling Ajmal Khan Road, you will see emblazoned on a banner: '100 % Pure Desi Ghee Preparations'. Consider this fair warning—after you've indulged yourself at Roshan di Kulfi, you'll waddle out like a penguin. And yet, this is a flimsy deterrent to visiting a restaurant that has fed loyal patrons since 1956. Roshan di Kulfi is a throwback to the past, having been renovated last in the early 1980s—it's a mélange of coloured retro tiles, granite-topped bright blue tables, marbled walls, ceiling-to-floor mirrors and olive green sofas that have seen better days. Kishori Lal Soni, the manager, tells me of his uncle's legacy. The late Roshan Lal Soni, who founded this restaurant, was originally from Himachal Pradesh, and worked for a dry fruit merchant in Lahore. After partition, he, along with countless others, found refuge in Delhi. Roshan Lal brought back with him the taste of Lahore and his love of dry fruit, setting up a push cart in one of the then newer arteries of the city, the nearby Arya Samaj Road. He sold matka kulfi—a craft he learnt in Lahore—which he served with a dash of dry fruit and faluda.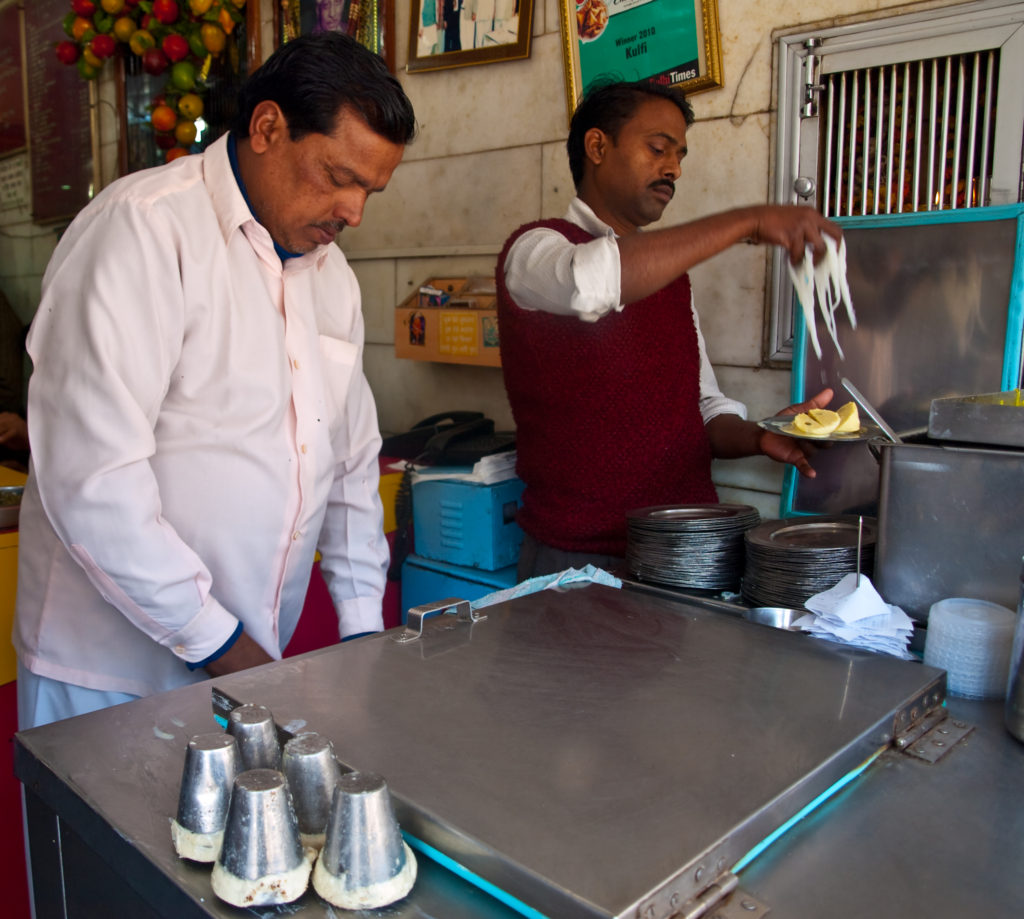 The area grew prosperous and his menu and business expanded, finally ending at its current location today, offering much more than just kulfis. A beatific garlanded photograph of Roshan Lal Soni hangs on the wall, gazing over his labour of love, with a few other pictures, memories from another age. Once upon a time, the family reared their own buffaloes for milk, but now the desi ghee and milk come from local dairies. That's not the only change. In the days of coal stoves, business would start at a bleary-eyed 4am. But with the advent of gas, the kitchen starts sizzling at 7am, shuttering by 10pm. The early bird specials are puris with aloo and channa sabji, and by noon the lunch menu starts getting served. Interestingly, the kitchen or workshop where all the food is prepared, as Roshan Lal's grandson Ishan describes it, is a 100 odd yards away, past poles tangled with wires and pipe thin streets usurped by encroachers and small enterprises. Every now and then, a running kitchen boy comes with a gigantic vessel balanced on his head and tips the channa or other food into vessels at the entrance, before scuttling back through the length of the alleyway.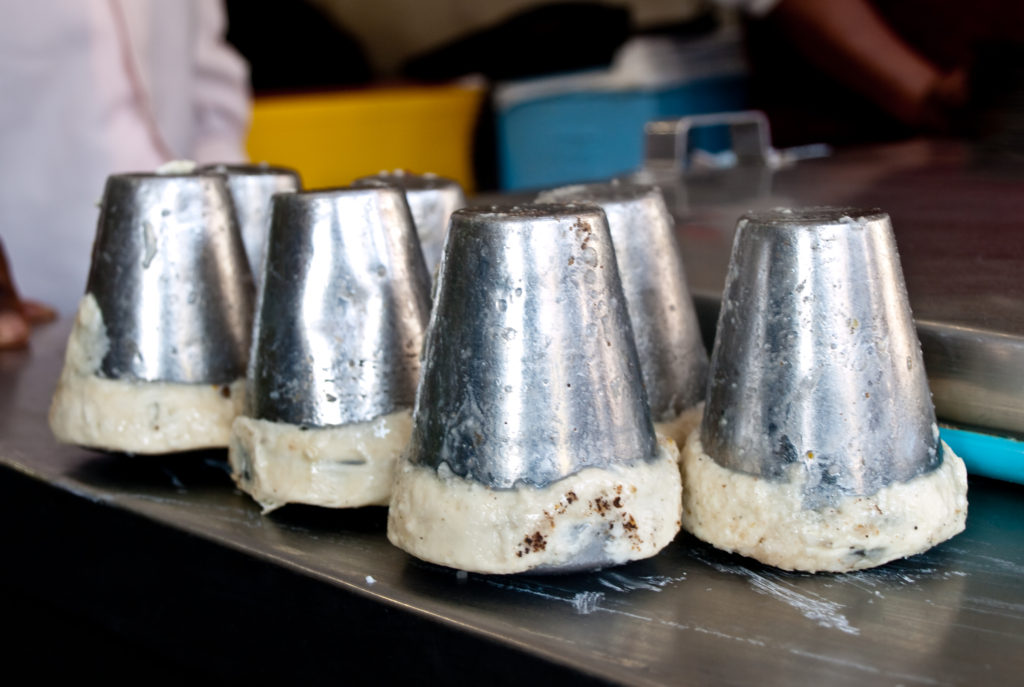 Even though the workshop isn't within arm's reach, it's in plain sight. A CCTV right above the cash counter reveals the happenings in the scullery and other areas, a step the restaurant took having suffered a terror attack some years ago. Yet it persevered and rose again like a phoenix. As we speak, waiters scurry around narrow passageways, slap steel plates on the tables and whisk them away once the deed is done. I devour a pillowy bhatura, served with raw onions and a plateful of channa, costing a mere Rs. 65, as does the famed Special Badam Kesar Pista Kulfi. But it isn't only the guilty pleasures of food that's worth exploring here. If you walk around the restaurant and take a peek at the road outside, you will see three cooks preparing bhaturas. One slaps and rolls the dough in perfect moons. The second claps it around to form a fluffy pancake. The third slides them into a kadai or wok full of spluttering ghee. The bhaturas bob till they become golden puffs, after which they are put to drain on a punctured wok. A waiter comes and fishes them out through the hatch, piling about a dozen on his tray. It isn't only food that grabs my eyeballs
Roshan di Kulfi has around 30 employees, the longest serving being Kashi Ram, who mans the papdi chaat counter. Easily identifiable thanks to his shock of grey hair and white kurta pajama, Kashi Ram has been here for nearly 45 years, says Ishan, grandson of Roshan Lal Soni.
Watching him is akin to witnessing a culinary bolero. The dahi bhallas are neatly stacked around the edge of a vessel whose cavernous hold is full of yoghurt. With deft flicks of his wrist, he prepares his plates. Besides him, a griddle full of aloo tikkis sizzle in desi ghee, sandwiched between a stack of samosas and a pile of kachoris. Just beyond Kashi Ram is where the channas rest, and beyond that the sweet counter on either side of the passageway, where desserts such as panjiri, raj bhog, rabri and kesar malai quiver. Just opposite Kashi Ram, the matka kulfi is prepared. Steel containers have long since replaced earthen kullads, but they're still sealed in a traditional manner. One man scrapes off the dough and spoons out the kulfi, while the other piles it with pistachios and nuts and signs it off with a final touch, a serving of faluda. As the sun rises in the sky, lunch hour is in full swing and there's barely space to move edgewise. People from all walks of life crowd the tables – local merchants, college kids, old timers and even the camera-toting NRI. Kishori Lal recalls Roshan di Kulfi's celebrity fans and rattles off a long list including Madan Puri, Om Puri, Satish Kaushik, Gulshan Grover and Kapil Dev, many of them Delhi boys who've grown up with the quinquagenarian's flavours. Little seems to have changed since its heydays, even though the capital city, having expanded well beyond the back streets of Karol Bagh, is now festooned with sprawling malls and glossy food courts. But Roshan di Kulfi, an organic part of the mohalla or neighbourhood it set roots in, shares the countenance of the area and the era it thrived in, drawing in people in search of the robust food and familiar flavours they grew up with.
Address: 2816, Ajmal Khan Road, next to Mehrasons, Karol Bagh, Delhi-110005. Tel: +91 11 28724230 / 97113 43321
Top 5 dishes to try : Special Badam Kesar Pista Kulfi; Channa bhatura; Aloo tikki; Papdi chaat; Puri (served in the mornings only)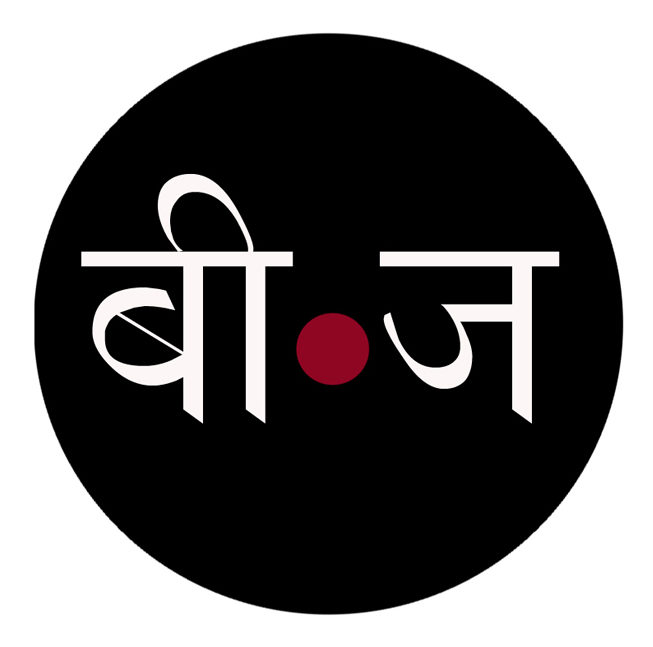 ---
---