The Philosophy of Food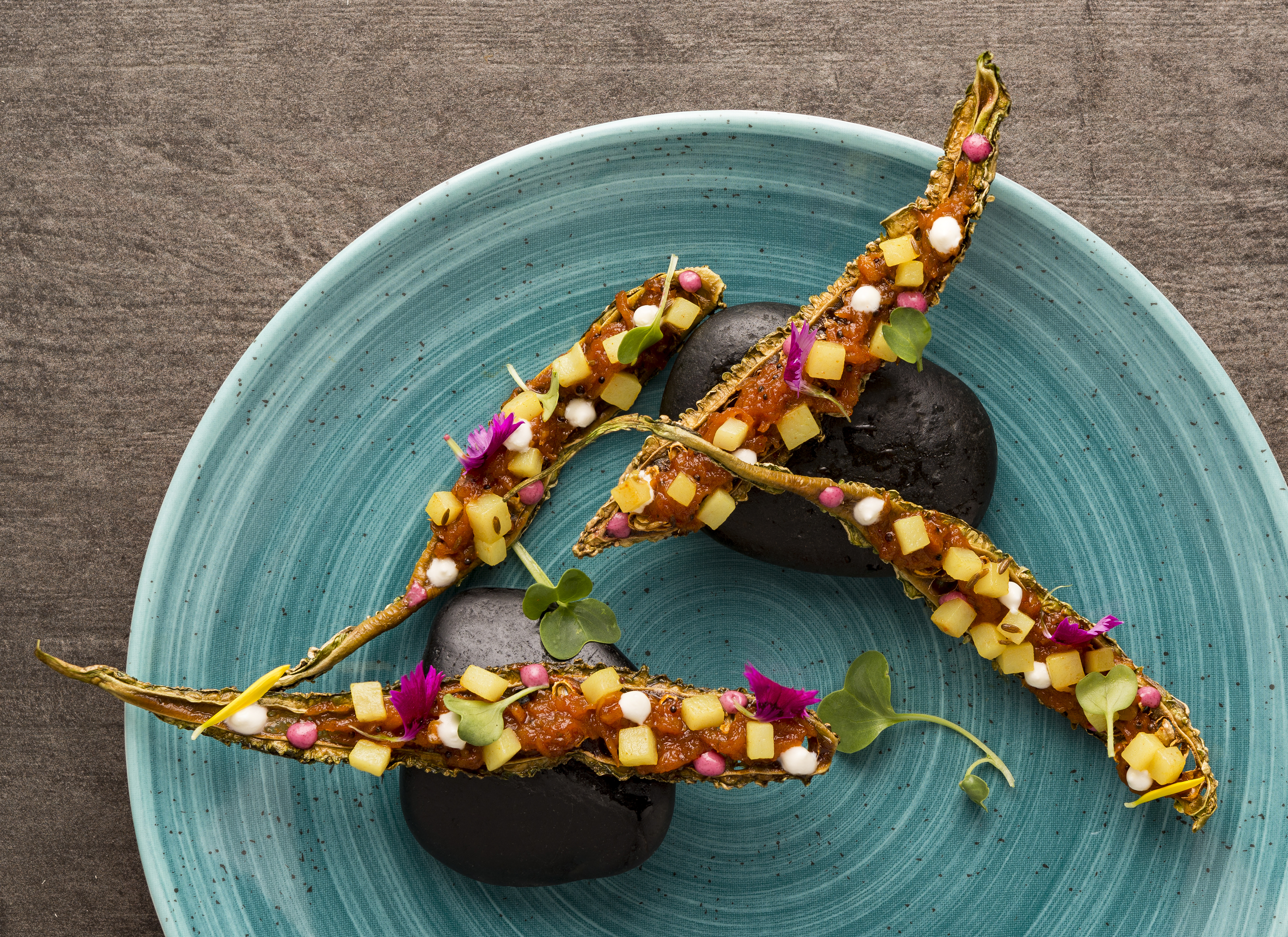 Chef Manjit Singh Gill speaks about food as a visible manifestation of the almighty and the necessity to follow Ayurvedic traditions
Yellow.
A secondary colour. A shade between orange and green. A splash which stirs up feelings of amusement, envy and even sickness. It's the blinding gold of the sun. The sunshine yellow of an egg. The deep ochre of a sunflower.
But prefix it to a lentil, and it reduces the legume to a homogeneous sludge— a seed of no significance.
It is a hot summer day in Delhi. A light drizzle pockmarks the grime clinging on cars with droplets of water.
I wait at the ITC Green Centre in Gurgaon to meet Manjit Singh Gill, Corporate Chef, ITC Hotels. I haven't spoken to him in years, and look forward to it. He walks in just before lunch, coming straight from the ITC Hospitality Management Institute, after delivering a lecture on the sixth taste in Ayurveda-astringent. Hailing from a family of farmers, he's a vegetarian by choice. Chef Gill is a strong proponent of the slow food movement, and a follower of Vedic culinary traditions.
The subject of yellow dal surfaces—the tiny placards on buffets and a la carte menus irk him. It's a conversation he has been having with his chefs—revisiting English nomenclature. Starting with the legumes. He wants to move away from the diminishing kaali and peeli descriptives.
"We have such a wide variety of lentils such as moong, masoor and arhar. And then we have whole, split with husk and split without husk and more. Even a foreigner should know that we have such a wide range. So why are we reducing them to descriptions of yellow and black dal?"
He recounts a meal which designer and actor Waris Ahluwalia was having with friends. They ordered paneer. The waiter described it as cottage cheese. "What is cottage cheese?"Ahluwalia asked, "Call it paneer." Chef Gill believes we don't need translations, simply to protect our culture and heritage.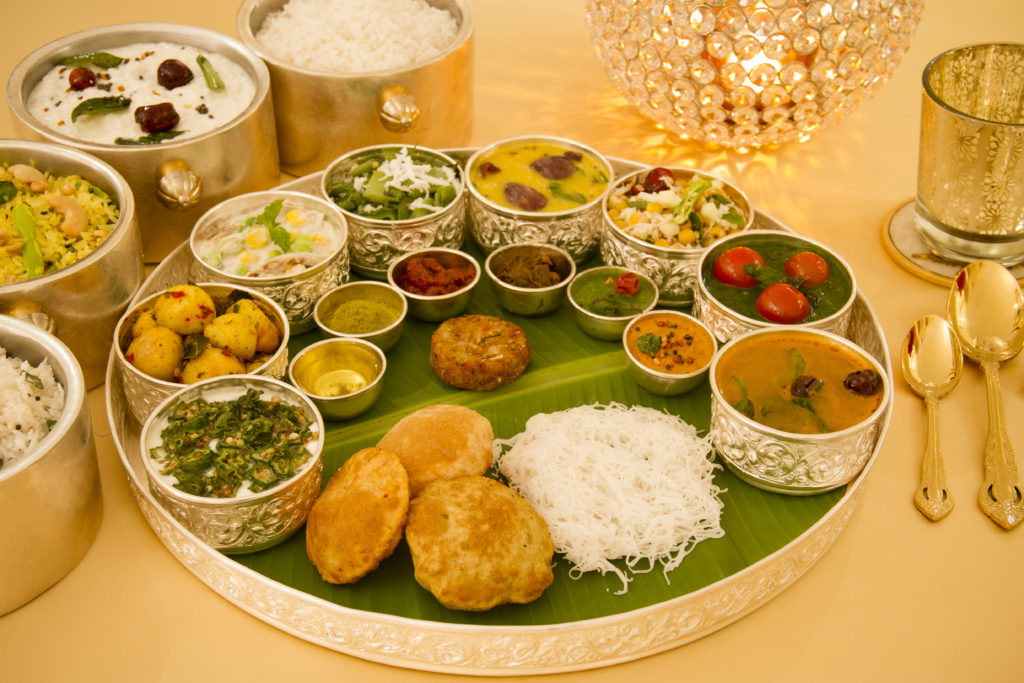 Arusuvai Vrindhu at the 'honestly vegetarian' restaurant the Royal Vega at ITC Grand Chola
"Indian gastronomy is a very vast subject. It's never ending," he says. "It's not a recipe led cuisine—it's a philosophy driven cuisine. The science and philosophy behind our food doesn't put a chef in a box, rather, it makes them think out of the box. That is the beauty of it."
Despite the astonishing amount of research he has done in the field of gastronomy in nearly half a century, he believes that he has barely scratched the surface. What disappoints him is that some chefs seem to be hunting for recipes, rather than exploring the fundamentals, the science and the knowledge of our rich culinary heritage. "All these allow a chef to be more creative. The more you read about Indian food and the deeper you go inside it, the more you understand it," he says. At the World Association of Chefs' Societies, he is the chairman of the culinary heritage committee, which opens wonderful possibilities for each country to preserve and promote its edible heritage.
He doesn't despair about the fast food era. The traditional Indian household brims with wisdom and depth of Indian gastronomy. I lament about my unsuccessful hunt to track down royal heritage liqueurs, which seem to exist only on derelict websites. He is optimistic. "If anything has existed in this land, it will come back! I am 100 per cent confident. This is India!" Perhaps the last corporate hospitality chef left standing in the country; Chef Gill tackles questions as easily as he wields the ladle.
BeejLiving: How well are we protecting our culinary heritage, especially when it comes to Intellectual Property Rights, and obtaining Geographical Indications (GI) for food?
Chef Manjit Singh Gill: We're doing it. The Food Safety and Standards Authority of India (FSSAI) is working on numerous initiatives. (Beej Edit: One of FSSAI's latest efforts is to create a repository of Indian recipes, validated by eminent chefs in the country. It will make them widely available though digital 'FoodCasts,' which will help people buy seasonal and will crowd source recipes from people and governments)
 Knowledge is being documented and GI tags are being obtained. For instance, tej patta, the leaf of the Cassia tree in India, is considered equivalent to the Mediterranean bay leaf, the leaf of the bay laurel tree, which is not true.
The website, Traditional Knowledge Digital Library (tdkl.res.in), was started to prevent misappropriation of country's traditional medicinal knowledge at international patent offices. (Beej Edit: The website has structured the available contents of the ancient texts on Indian systems of medicines i.e. Ayurveda, Siddha, Unani and Yoga, into five international languages, though it seems that the website hasn't been updated in a while)
 On your recent travels, have you discovered any interesting cuisines?
I visited Uttarakhand and the food was wonderful. They use three-four unique spices such as Jumboo and jakhiya.  For instance timur seeds, which are similar to Szechuan pepper corns.   They also use a fair amount of aromatic grass which has therapeutic properties. Hemp is used to make chutney. Hemp is trendy now, but it has been used by them traditionally.
We must encourage people to discover the food in their own backyard. There's a lobby that encourages international food trends, as seen in the popularity of quinoa. But why not eat amaranth instead?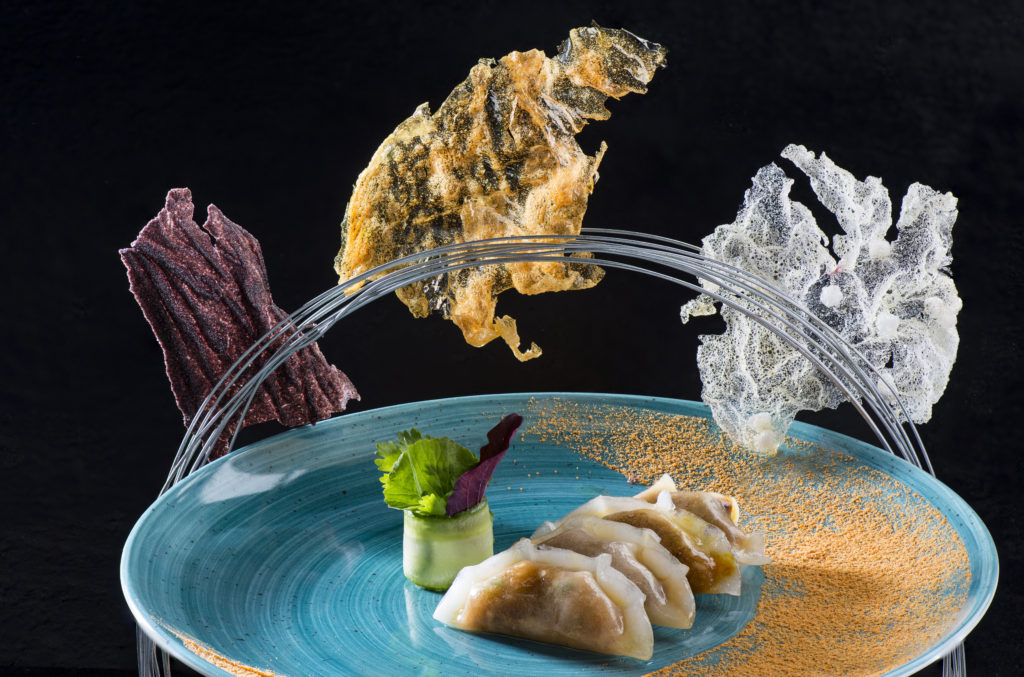 Pumpkin and green chilli dumplings served with tapioca chips at the Avartana at ITC Grand Chola
Unusual grains are not the only import from the west. Many dietary fads have come too, the latest being the ketogenic diet that's heavy on fat, moderate in protein, and extremely light in carbohydrates.
If you understand a simple principle that you are composed of five elements (space, air, fire, water and earth) and your food is composed of five elements too, and the ratio of composition differs depending on your location, you will understand that your body is compatible with local food only.
If we had more knowledge about Ayurvedic philosophy, we would be more aware to eat according to our body type…
There is a disconnect. Ayurveda is a vertical of gastronomic science, and the former has many verticals, including medicine, daily routine and food. There was a time when Ayurvedic doctors had to be great cooks because they needed to prepare the medicines. So they needed to know how to fry, roast, etc. This is coming back, as seen in the emergence of Ayurvedic chefs. Food is not only medicine, it is pleasurable too.
Food sometimes is approached with trepidation (too much fat, too much sugar, too much oil, etc). How do we accept food wholeheartedly, without guilt, that it is also pleasure? 
Our food is very deeply rooted with our nine feelings, which link our body, mind and soul. This  further affects are thoughts and emotions. Rassa, the essence of our feelings, excites our body and mind. We recognise nine feelings (love, wonder, calmness, anger, courage, sadness, fear, disgust and joy). All this comes from food. (Beej edit: he gifts me a book, Secrets of Indian Gastronomy, where he goes in detail in describing food for the soul.)
This will make you think about how important it is to understand food. When we cook for others joyfully, we are giving goodness to another person. But if we're not, then food can be slow poison—our food won't be doing a service to others.
Everybody must study food, for food to establish as a habit—a good practice. The right food needs to be for the right purpose. It might take 100 years!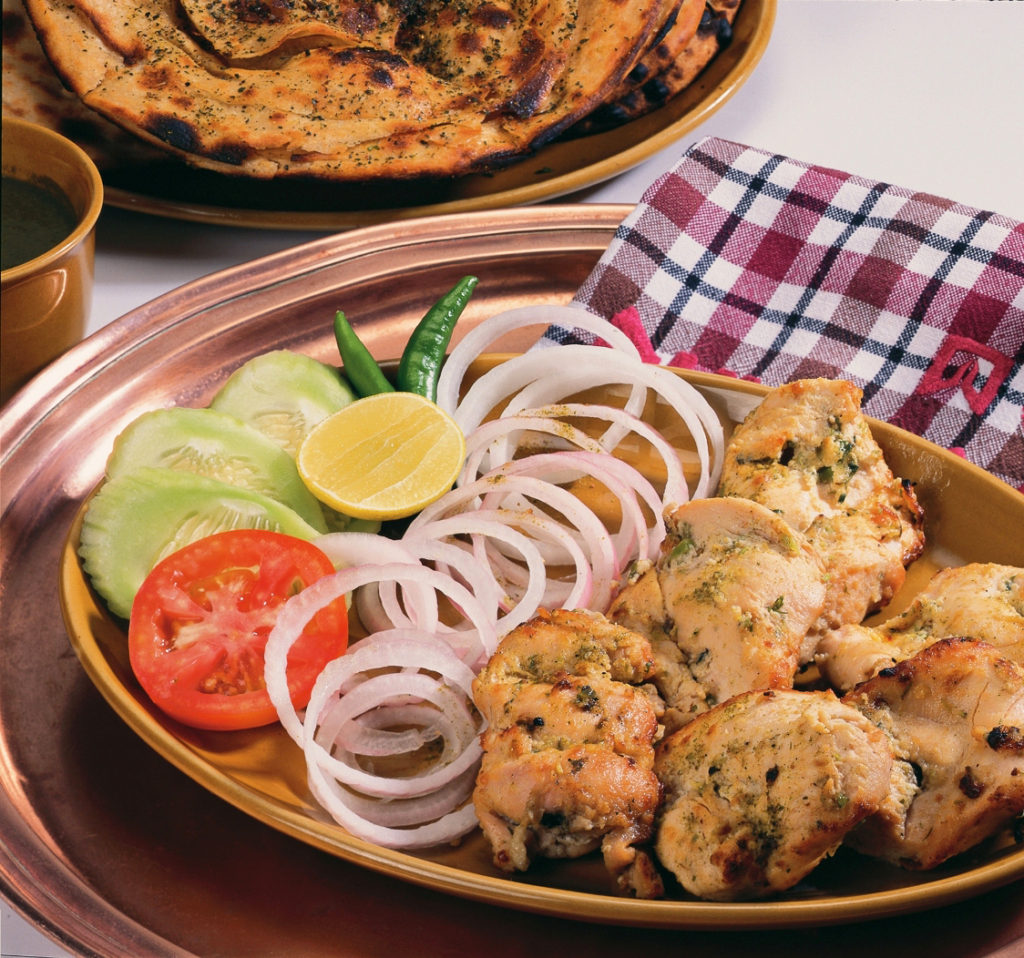 The classic murgh malai kebab at Bukhara in ITC Maurya
There is so much confusion.
Nutrition emerged as a science around 70 years ago in the west, with research on food taking off then. But Indian traditional practices have been around since centuries, by observation, and developed and have stood the test of time.
Fats such as desi ghee were frowned upon and hydrogenated oils crept on shelves in the west. Even in India, vanaspati, (a vegetable shortening made from hydrogenated oils) came as a cheap substitute for ghee, which proved to be unhealthy. Thus, it is better to follow your traditions.
We need information. And we need to be aware about how a particular food affects you. If someone says "this particular fat is bad" you need to ask yourself, is it bad for you? You know what is best for your body.
The food I enjoy the most is what I've cooked for myself. Simply because I control the food at every step. I understand my feelings, my mood and my mind at that moment. You need to experiment with food, and see how you feel with food. For instance salads are very good, but they're bad for me (Beej Edit: he has a predominantly vata constitution).  People need to spend to understand their body—they have no choice. I don't agree when people say they don't have time for food.
So, how can we change this?
There should be more food conversations. The worst is when people think a dialogue refers to watching cooking demonstrations and TV shows. It is sad that people are learning to cook from TV. It is a wrong practice. Food looks nice, but you don't deal with how to tackle food wastage, etc. One positive aspect is that such shows open your mind. I believe that cookery demonstrations should be the last part in your quest to gain knowledge about food.
I was invited to Hong Kong for a chef symposium. I said I will give a short demonstration of five minutes, but I needed 25 minutes to speak on the subject of food. After my speech, people came up to me saying that they never saw food from this perspective.
Chefs today are responsible for digestion, nutrition, metabolism, and even the absorption of nutrients in the body. It is our responsibility to keep our society healthy.
In hotels how do you ensure that food reflects this philosophy?
Consider Bukhara. We don't add salt in the raita, to get the goodness of probiotics from the curd. Some argue that we add salt to gravy made from curd. But the function of gravy is different from the purpose yogurt serves. So that argument doesn't hold. Food is an intellectual subject. And cooking is the result of all the intellect you have.
What approach should someone involved in food preparation take?
It is an interactive subject. You must have good knowledge of each ingredient; otherwise there is no point in cooking. You must have an understanding of the touch and feel of cooking. You need to not only taste the final dish, but also the ingredients used in it as well. For instance, with every season and from different source, a chilli will taste different. You must completely involve yourself with the food.
Mindfulness. That is what everyone is talking about…
Everyone knows! People say you should cook with love, with passion. When your mind is not there, how can you put your heart into cooking? I still remember when I was at Davos for the World Economic Forum, cooking a meal for over 3,000 people. Srinivasan Jain of NDTV asked me, "Chef, you must be under a lot of pressure?" I said," No, I'm not." I had already done around three reccies. I had a team of 30 people who knew their jobs. The pressure is not the volume of work. Every meal is a challenge—be it a meal for two people or 5,000 people. You have to give your best. If food makes people happy, then where is the pressure? We believe that food is given by the almighty.
If you look at India as a country, we have never marketed our cuisine to the outside world.
Now the time has come that we must do it. There should be an international symposium on Indian food, led by the government. Look at how the French Government is promoting French cuisine globally, including India, through Bonjour India and other initiatives. Look at Thailand. They have identified around 30 dishes which every chef engaged with their international embassies needs to know how to cook, so that their food is projected correctly. Our food was more about sharing and for worship—we never thought of it as a commodity to be marketed to the world.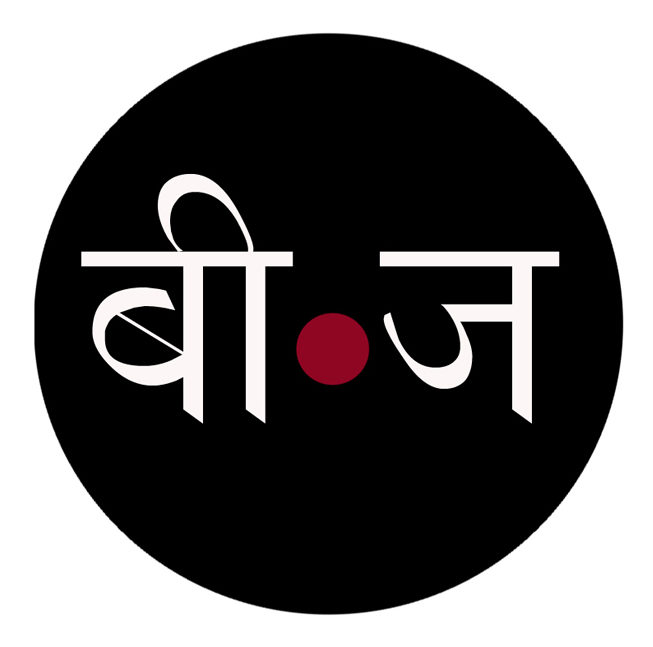 ---
---